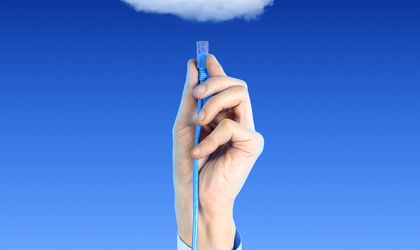 While the adoption of cloud computing in Romania is gaining velocity from one year to the next, the statistics do not lie. Figures put Romania among the lowest placed EU countries in terms of adoption rates by businesses, individual users and the public sector. Still, there is encouraging news in all of these areas, pundits told BR.
By Otilia Haraga
The most recent Eurostat survey, published in December 2014, found that only 5 percent of Romanian companies use cloud computing services, by comparison with a European average of 19 percent. Marginally above Romania are Latvia and Poland, just 6 percent of whose companies use cloud computing, and Bulgaria, Greece and Hungary, each with 8 percent.
The European champions in cloud adoption are Finnish firms, 51 percent of which use the cloud to store e-mails, file databases, software and applications.
Experts consulted by BR say that the situation is not as dramatic as it seems, and that in reality the picture across Europe is not significantly different.
"While the adoption rate is higher than in Romania, there are several drawbacks delaying adoption such as diverse and continuously changing data privacy regulations, slowness and the undesired effects of some EU policies and multi-country business processes," Mihai Rada, director advisory, and Gheorghe Vlad, senior manager in IT advisory at KPMG, tell BR.
In the public sector, adoption is even lower, since the Romanian authorities are reluctant to take the leap, for various reasons. Generally, the public sector is slower to adopt the latest technologies, as institutions are still bureaucratic and apprehensive when it comes to sensitive public data.
The Eurostat survey found that 76 percent of companies in Romania use the cloud for e-mail services. But only 37 percent use other services like file storage, database and software services.
"We can look at it in a negative way – if we consider the level of digitalization – but also see it as a big opportunity," Michal Golebiewski, marketing and operations director at Microsoft Romania, comments to BR. He believes that Romania does not yet have "a crystallized verticalization of cloud services."
"It's about usage scenarios. That's why companies with mobile sales forces or external agents will be more interested in mobility and cloud. It's the same with sharing documents and accessing information remotely. And here we see banking and professional services," says Golebiewski.
The National Strategy on the Digital Agenda for Romania paints a slightly rosier picture. The document quotes a CIO Council survey carried out in 2012, which found that in Romania, 55 percent of private companies use cloud technologies in various forms. However, only 10 percent of survey participants use only public cloud.
Costin Matache, executive director at Ymens, estimates that by 2017, all big companies in Romania will use cloud solutions, based on the data in the CIO Council survey.
"Overall, the market stands at approximately EUR 100 million, a figure I believe will consistently increase in the coming years on account of public and private organizations' interest in becoming more efficient, flexible and agile in this increasingly competitive environment," he tells BR.
Even if statistics place the cloud adoption rate in Romania at the lower end of the scale, in the area of digital commerce the situation is quite the opposite, according to Laurentiu Ghenciu, vice-president, EMEA sales, at Avangate. "In digital goods and online services verticals, we're seeing adoption of close to 100 percent," he tells BR.
Citing the Gartner survey IT Market Clock for Digital Commerce 2014, Ghenciu comments, "SaaS (software-as-a-service) digital commerce platforms are popular among small to midsize organizations, as well as an increasing number of large enterprises. Roughly 20 percent of implementations are due to be delivered using SaaS, and that number is growing."
He adds, "The reason we believe Romanian digital companies use mostly commerce platforms in the cloud is that they entered the market later than their foreign counterparts and simply went for the more agile, faster-to-market solution."
Cost is also an important factor: SaaS platforms are normally revenue-share, with low or zero upfront costs, while on-premise implementation clearly comes with different costs, notes the VP.
"On the startup front, there is no doubt that companies go for a cloud-based commerce platform, no matter where they are from – Romania, the US or China – again, because of the costs and benefits brought by a revenue-share model: you don't sell anything, you don't pay anything either. Likewise, when you sell more, the platform scales with you without any additional investment in infrastructure or support," he tells BR.
Most experts canvassed by BR seemed to agree that the early cloud adopters in Romania were IT companies. The reason is that these firms were "the first to understand cloud technology and its highly valuable benefits," says Matache. Multinationals, which have adopted global IT strategies, including cloud solutions, followed next, he adds.
Catalin Necula, solution sales manager for infrastructure solutions and cloud at Star Storage, shares that view. "IT companies in the financial-banking industry, utilities and retail have understood the benefits that cloud has to offer and so migrated to the private, cloud virtualized platform: from services like e-mail, collaboration and sharing information inside the organization to virtual servers, backup services, data recovery services in case of disaster and data replication in third party data centers," he says.
According to Necula, companies with regional or national business, which need a high availability of critical applications, are fast adopters of public cloud services as are companies that experience high variations in resource consumption. The manager argues for these firms, the benefits of this model bring added value from the first year.
More cautious when it comes to transferring to the cloud are companies that lead their activities in one single location, because externalization is seen as a supplementary risk. However, backup and disaster recovery services are still considered valuable, says Necula.
As far as the public sector is concerned, he argues that it is still enslaved to the traditional IT model and finds it hard to ingest the idea of outsourcing IT infrastructure to a third party company. By comparison with Romania, other European states are much more open to these types of services, says Necula of Star Storage.
The reasons for the slower adoption of cloud services in Romania may be a cause of the lower digitalization level among local companies.
Nazmi Caglar Boluk, CEO of Euroweb Romania, warns that there is still a gap between Romania's use of certain categories of IT solutions and the European average. While in the EU 27 countries approximately 71 percent of companies have a website, in Romania only 36 percent do.
For the use of SCM (Supply Chain Management) solutions, the EU 27 average usage rate stands at 23 percent of firms versus 14 percent in Romania. And 53 percent of companies in EU 27 countries exchange information electronically between organizations, against only 39 percent locally.
It is estimated that cloud services will produce revenues exceeding EUR 150 million by 2017, if public institutions understand and rule in favor of adopting these services, Boluk tells BR. "Even though the term 'cloud' is no longer a mystery for IT users in Romania, the revenues generated by these services are low compared to the performance of other countries in the region, which are much more advanced from this point of view," says the Euroweb expert.
In Europe, things are different because virtualization services alone – basically cloud computing – mean a market of EUR 4.5 billion for software products and another EUR 1.5 billion for hardware, he notes.
However, the adoption of cloud computing services is set to grow. It is forecast that cloud computing will rise by approximately 20 percent in Romania. "On the local market, the cloud adoption level was under 10 percent in 2013, but we expect significant growth over the coming years when the green wave for European funds for 2014-2020 comes. We estimate very high growth in demand from small companies and public institutions, after the European Commission set the financing rules for IT projects in 2014," Boluk tells BR.
According to Matache, cloud CRM (Customer Relationship Management), ERP (Enterprise Resource Planning), cloud communication and collaboration solutions or cloud content and document management solutions have sparked the interest of businesses in Romania. Private cloud is currently the predominant model used in the enterprise environment.
Lucian Daia, head of custom solutions at Zitec, says that many companies are still using software solutions such as operating systems, productivity applications and presentation websites at a minimal level.
The development of applications to increase the efficiency of these processes directly on cloud platforms can boost the degree of cloud adoption, in an accessible way for companies.
According to an IDC study, one of the dominant hybrid cloud models used worldwide is SaaS linked to on-premise applications. The global trends in the coming years, which are expected to reach Romania as well, indicate that the hybrid cloud model will post faster growth, according to Matache.
"Five years ago, data loss and privacy risk were primary concerns and contributed to slower cloud adoption rates. Today, most organizations realize that cloud is a platform they have to integrate and support, so they are more focused on operating effectively. The question is no longer: 'How do I move to the cloud?' Instead, it is: 'Now that I'm in the cloud, how do I make sure I've optimized my investment and risk exposure?'," say KPMG experts.
Of the challenges that companies are still facing over cloud adoption, the KPMG experts rank as most common those related to data loss and privacy risks, risk of intellectual property theft, impact on the IT organization, measuring ROI, high cost of implementation and legal and regulatory compliance issues.
"The decision to go or not go into the cloud is also related to the degree to which a company is using digital technologies: it is less likely that an agriculture company will see benefits from going into the cloud while transportation or retail firms will be more open to it," argue KPMG experts Rada and Vlad.
The ascension of the cloud model has been amply documented and researched. Andreea Mitrita, tax director at PwC Romania, points to a Forrester survey which reveals that the top industry sectors to have implemented cloud services globally are utilities, media, entertainment and leisure followed by manufacturing, financial services and insurance and retail.
Across the EU, most enterprises using the cloud are active in the information and communication sector (45 percent), followed by those fields covering professional, scientific and technical activities, according to Eurostat.
"In Romania's case, although there is still insufficient public information on cloud usage across business sectors, we expect that IT is the sector with the most intensive usage of cloud computing solutions," says Mitrita.
Daia adds Zitec's take. "Our experience shows that locally, retailers are the largest cloud consumers. At the opposite pole are companies in strongly regulated fields such as pharma, financial and utilities, but there is strong interest among them in the migration of applications to the cloud," he tells BR.
One major obstacle that still stands in the way of cloud adoption is force of habit. The cloud disrupts mentalities and these are often much harder to change than mere equipment. "There is the natural status quo which tends to affect every aspect of our lives. Take as an example moving from writing letters to sending e-mails, from buying CDs to streaming songs directly to devices and the list could continue. The transition took time even though there were strong reasons for the change. In our case, for many years users 'owned' IT solutions. Cloud is changing that model: IT solutions are 'rented' (subscription based)," Golebiewski tells BR.
He mentions other barriers: medium and large companies have concerns related to security and privacy. Another typical worry is the effort of migrating the existing infrastructure to the cloud.
"Take again the example of music storage: If I already have hundreds of CDs, I must decide if and how to convert them to electronic versions and use them on portable devices. I can transfer all and throw away the CDs or I can use both models. The same with cloud – I can use only cloud or a mixed environment, in a very flexible way," he tells BR.
He goes on, "Cloud is a huge opportunity for SMEs. It has been proven to help them grow their business with better cost control. One main obstacle for them to invest in new technology has been the initial cost: you have to buy licenses, business applications, maintenance services. To give you an idea, with cloud you can have all of that on all devices for a daily fee comparable to the cost of cup of coffee. Sure, different qualities of coffee come at different prices, but still…" says Golebiewski.
He gives other arguments in favor of cloud adoption for such firms. "The concept of bring-your-own-devices such as smartphones and tablets is very common in this segment and cloud-based solutions support it very well," adds the Microsoft representative.
A survey commissioned by Microsoft and conducted by Ipsos Mori in Europe (Romania included) found that 55 percent of SME employees agree that mobile technology helps them save time and boost productivity so that they can better balance work and personal life.
The survey also found that 83 percent of SME employees can be contacted by their work outside of normal office hours. This is the perfect scenario for cloud mobility, Golebiewski concludes.
"We feel that Romanian mid-market businesses are ready to enter a new era of digitalization that will lead to cloud adoption. The increase in mobile data consumption, the high adoption rate of smartphones and tablets and the constant change we see in consumption habits, both from consumers and businesses, will lead to a forced digitalization of businesses, both from the B2C perspective but also internally, in the area of business management," Markus Lause, director of the enterprise business unit at Vodafone Romania, tells BR.
The cloud apps that have become available for a wider number of mid-size and small businesses are generally in the area of invoicing, ERP, CRM, stock management, document management, fleet management, cloud storage and video as a service, adds Lause. He thinks that professional services for companies lead cloud and apps usage, followed by retail and wholesale, while construction and manufacturing are next.
"Of course, as the hardware sharing model is stirring a revolution on the IT services market's business segment, it is to be expected that the model will radically transform other industries that have strong IT infrastructures: television, the medical field, banking and insurance," says Necula.
The sky's the limit for public sector cloud adoption potential
The adoption of cloud computing in the public sector is part of the first pillar of the National Strategy for the Digital Agenda for Romania, which includes e-government, inter-operability, cyber security, cloud computing, open data, big data and social media. It aims to achieve a boost in efficiency and reduce costs in the Romanian public sector thorough the modernization of the administration.
"The Lisbon Agenda outlined challenging goals for public administration across the EU to provide various e-government services via electronic channels, for both private citizens and businesses. Cloud computing should be considered a very attractive strategy for the development of modern digital public administration, considering its cost efficiency," Rada  and Vlad  tell BR.
They add that, technically, there are no limits to what the public sector could do using IaaS, PaaS and SaaS cloud services for citizen engagement and communication, government productivity or internal process applications.
The view is shared by Golebiewski, who tells BR that this would "open the door to extremely innovative and fascinating possibilities in terms of the 'Internet of Things', where sensors, devices and systems can work together to make our lives much easier."
"Besides the cost related argument, there are other two important benefits: enabling e-government for the benefit of citizens and the interoperability of various government organizations," he says.
If cloud were applied in the public sector, this would have "an immediate impact on people's lives and huge benefits," chief technology and information officer Telekom Romania tells BR.
He adds that the benefits would exceed those in the private sector, "because the state has a tendency to do things in a less optimum manner than the private sector."
According to the National Strategy for the Digital Agenda 2020, the dominant model for the development of cloud computing that other European countries have so far adopted is the Governmental Cloud (G-Cloud), a private or community cloud especially created to be used by national governments.
"Cloud solutions can significantly eliminate issues faced by all IT departments, of both central and local authorities, associated with capacity, purchasing and maintenance of an IT infrastructure or data processing center," say KPMG experts.
The real problem, according to the experts consulted by BR, is that governments are still reluctant to see cloud as a reliable partner for the development of the public administration and a more effective allocation of resources.
According to Golebiewski, in the public sector very careful attention is paid to aspects such as local data storage, privacy and security. "In line with this special attention to data, this sector, as in any big enterprise, tends to use private or hybrid cloud solutions," he says.
The private cloud means that authorities use their own datacenter, fully managed locally. Hybrid cloud is the partial extension of private cloud to public cloud for some workloads like backup, data recovery and storage, he notes.
Tsokanis says that reluctance regarding cloud adoption can be found in all national governments, not just in Romanian.
"We should not imagine that Romania lags much behind other countries. Cloud usage in the public sector is still the exception and not the rule because various authorities still have certain 'legacies' and a lack of flexibility, which are difficult obstacles to surmount," he comments.
Traditionally, the public sector has been dominated by "the moving of boxes" so more attention was given to hardware than to what could be built upon it. "This is hard to change overnight," adds Toskanis.
One solution comes from Necula, who suggests that there should be more training sessions targeting specialists from public institutions.
"At the moment, the use of traditional IT technologies is preferred in this sector, and acquisition processes are extremely cumbersome and limited, but in the future we hope that things will change," he says.
However, the first step towards the adoption of cloud services in the public sector has been made in the education field. "The education system is the most open towards this model of using IT resources, especially because the information in this field has an open regime. Also, public cloud ensures the necessary resources to cover the consumption peaks that are specific to e-learning platforms. The educational field is the gateway through which cloud adoption will spread across public institutions," predicts Necula.
Private user more connected to the cloud
"More individuals are using cloud services which are closely correlated to the adoption of mobile technologies. As mobile computing rapidly grows (i.e. the penetration of smartphones and tablets) so does the adoption of cloud," KPMG experts tell BR. They add that although not fully aware of it, most people use cloud services while storing backups, photos or other media on the cloud space provided by mobile devices.
For individual users, the cloud is all about convenience of use anytime, anyplace. They can have data and applications at their fingertips, as they can access them from anywhere with an internet connection.
Golebiewski argues, "Cloud adoption among the consumer segment is much bigger than in business – if we think about personal email or use of social media (which are cloud services)." Online gaming, music and video streaming, virtual drive and data storage, plus apps stores are the kind of services in the cloud that are available to individual consumers.
Telecom operators in Romania have special offers giving cloud storage space and access to cloud applications to their customers. "At Orange we can talk about music services such as Deezer which are in the cloud, but also entertainment services such as Orange TV Go, which can be accessed from a tablet, smartphone or laptop," say company officials.
However, unlike the business sector where cloud generates revenues for companies that provide these solutions and offer a better economy of scale for those who take up the service, the model for the individual consumer is different.
"Individual consumers who are ready to pay are still few and the model is mostly 'freemium': they get basic features for free and pay for upgrades," says Golebiewski.
But even judging by individuals, Romania is still lagging behind other Western European economies. According to Eurostat, one in five Europeans uses cloud storage services to keep documents, photos, videos and other files. Moreover, 15 percent of Europeans use the cloud to share files.
The leading countries in cloud adoption by individual consumers are Denmark, where 42 percent of the population uses the cloud, followed by Great Britain (38 percent), Luxembourg and Sweden (35 percent each) and the Netherlands (34 percent).
However, in Romania less than one in ten Romanians uses cloud services, on a par with Poles and Lithuanians
Approximately 15 percent of Europeans use cloud to share services, 44 percent use email applications, and 38 percent USD sticks, DVS or bluetooth. Most use cloud services free of charge, and 88 percent of them store and share photographs.
Only 54 percent use cloud services for text documents or technical presentations. One third of Europeans use cloud to share just music.
"Individual consumers are willing to test and use platforms that are as varied as possible and have new capabilities. They prefer that new applications are as integrated as possible with consecrated platforms, are secure, not hard to manage, accessible from mobile devices and have an important social component, from sharing on social networks to interacting with other users," comments Necula.