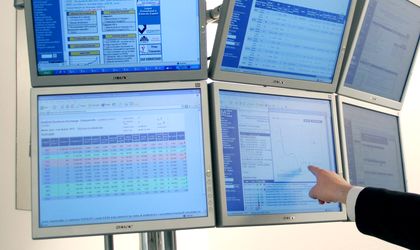 Shares in Romania's power utility Electrica SA edged up in their market debut on the Bucharest Stock Exchange on Friday, selling for RON 11.11 per share, about 1.2 percent higher than the price of the initial public offering, writes Mediafax.
Electrica set the final price of its shares at 11 lei a piece, having previously set a range of 11-13.5 lei.
Electrica shares varied between RON 11.05 and 11.17 in the first 15 minutes of trading, with an average quote of 11.13/share according to brokers.
In one hour, investors made 500 transactions with Electrica stock on the BVB.
Over in London, Victor Ponta is attending the listing of Electrica on the Londong Stock Exchange. The PM is joined by Minister-Delegate for Energy Razvan Nicolescu.
'The London Stock Exchange is inviting a Romanian Prime Minister – that never happened before – to the largest listing, in the sense that some people from the private business medium came and said: 'we trust Romania, we will pay half a billion euro on one company, Electrica,' the Prime Minister said on Thursday.

Ponta reminded that, in the case of the Electrica company, the oversubscription was of 200 percent.

'There were twice as many buyers than we needed', he added.