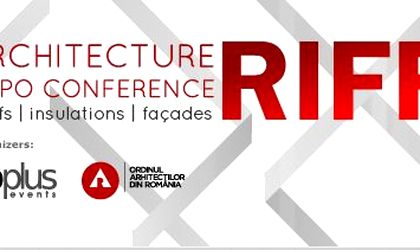 ABplus Events together with the Order of the Architects of Romania (OAR) will organise the RIFF International Architecture Expo and Conference at the Radisson Blu Hotel in Bucharest between November 10 and 11. 
RIFF is an international event dedicated to the architecture of facades, roofs and insulation, promoting recent best practice examples of Romanian and international architecture, highly-awarded projects, architects with outstanding results.
The event is part of the series of international expo conferences organised by ABplus Events, the Order of the Architects of Romania, the Association of Polish Architects and the Chamber of Hungarian Architects, in Bucharest, Warsaw and Budapest.
There will be a total of 40 speakers with special guest architect Ósbjørn JACOBSEN, winner of the European Union Prize for Contemporary Architecture "Mies van der Rohe" 2013. 
More information can be found on the event's official website.