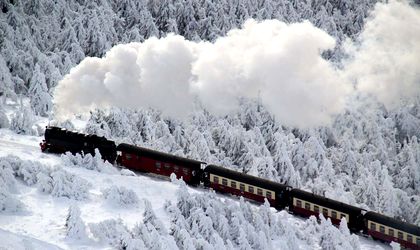 Two trains on the Satu Mare – Bucharest and Craiova – Bucharest routes have reached their destinations on Monday with delays of over two hours, and two other routes are experiencing delays of over an hour and a half while another train was cancelled due to heavy snowfalls and winds, according to Mediafax newswire.
According to the national railway company CFR Calatori, the IR 1880 train travelling on the Targoviste – Titu route was cancelled due to the bad weather conditions, with its passengers being moved to the next train in the schedule, said Mediafax. Two other passenger trains – IR 1742, travelling on the Satu Mare – Oradea – Bucuresti route and IR 1892 travelling on the Craiova – Pitesti – Bucuresti Nord route – reached their destinations with over two hours of delay due to technical malfunctions. According to sources cited by Mediafax, the passengers on the train from Oradea were offered hot tea. Moreover, the IR 347 Vienna – Bucharest train will be reaching its destination with over an hour and a half of delay, said Mediafax.
If the trains experience malfunctions in the electrical and heating systems, due to the sub-zero temperatures, the train personnel will move the passengers, as much as possible, to other train cars and offer them necessary assistance, declared CFR representatives.
"There is active operative and centralized cooperation so that the train personnel and those at the stations will be able to take the best measures to prevent unpleasant situations for travellers. The train personnel is available for travellers, offering them assistance in the stations and on board the trains", said CFR.
Moreover, passengers who wish to renounce their journey will, on request, be reimbursed for their tickets for the untravelled route, according to Mediafax.
Andreea Tint