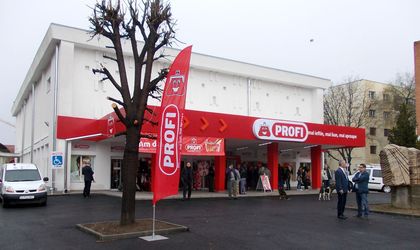 Profi Rom Food has obtained RON 177 million a loan from the European Bank for Reconstruction and Development (EBRD) and from Raiffeisen Bank to support its expansion, the company informs.
'The  PROFI business plan for the next three years, at the same time optimistic and realistic, provides for opening at least 100 stores each year," said Profi Rom Food financial director Dumitru Dragomir. "As far as we know, ours is probably the most dynamic expansion in European retail, and to reach our target, this month we have contracted a club loan that provides the due financial resources."
The company believes the economic advance due to the recent fiscal measures by the government will continue and that " in the coming years the business climate in Romania will continue to go on a positive track ," encouraging the management to invest into expanding its network.
Today Profi opened two stores in Targu Jiu, Gorj county, and in Rucar, Arges county, both operated in the Standard format.
The one in Targu Jiu is located at 38 Ecaterina Teodoroiu Boulevard and covers a total 950 sqm with a sales room measuring 479 sqm.
The store in Rucar is located on 45 Brasovului Street, and totals 555 sqm, with a 379 sqm sales room.
With 382 stores active in 181 localities and more than 9,500 employees, Profi boasts the retail network with the widest geographical coverage in Romania.
Natalia Martian