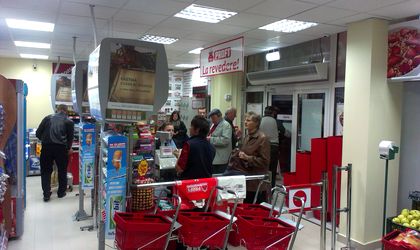 After opening a new store today in Baia Mare, grocery retailer Profi has reached a network of 180 stores in Romania.  The new outlet has a sales area of 365 sqm and sells some 5,000 products.
With its 180 stores in 95 localities, Profi says it is the second largest modern retailer in the country. It operates three types of stores – Standard, City and Mall stores. The City format was launched this March. Unlike the standard Profi stores, the City units will feature fewer products but the offer will better adapted to the needs of proximity clients, says the retailer.
The retailer announced at the beginning of the year plans to open some 45 outlets in 2013 which require investments of about EUR 18 million. The announcement came after it closed 2012 with a network of 149 stores, 45 of which were opened the same year.
Profi  stores are owned by Enterprise Investors, a Polish private equity company that bought the retail network in 2010 from Duna Waiting Participation for EUR 66 million.
Profi reported in 2011 sales of RON 1.04 billion (approximately EUR 214.5 million), up 29 percent y-o-y. The growth was mainly generated by the opening of 26 new stores, while like-for-like sales growth was 7.5 percent.
Simona Bazavan