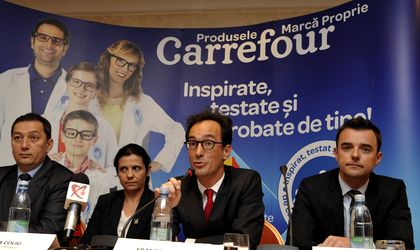 Motivated by lower prices, Romanians are increasingly buying more private label products, with their share of the entire Romanian FMCG market representing about 8.5 percent, Vlad Ardeleanu, commercial director at Carrefour Romania, said last week during a press conference.
But even so, Romania is well behind developed European markets where private label products account for between 25 and 30 percent of FMCG sales.
Carrefour Romania currently sells about 1,400 private label products which represent 13 percent of the retailer's sales. This segment grew by 10 percent last year, a higher increase than the retailer's global sales. One of Carrefour's strategies for its local subsidiary, in addition to opening new outlets, developing its recently launched online platform and sourcing more products locally, will be to further diversify its private label portfolio, said Francois Melchior De Polignac, Carrefour Romania's general director. About 90 percent of the private label volumes the French firm sells are supplied locally, a singular case on the Romanian market where most retailers prefer to import the largest share of private labels they sell, said Carrefour representatives. Selecting local suppliers is a time-consuming and painstaking process, they added. Each potential supplier goes through an external audit. Prototype products are later tested both in the lab and by consumers and afterwards task books are compiled.
The resulting private label products are on average 20 percent cheaper than the equivalent regular products, mostly because of reduced marketing and advertising costs. Among Carrefour Romania's private label suppliers are established local companies such as Dobrogea and Apicola, said the retailer's representatives.
Carrefour Romania currently runs a network of 116 outlets, out of which 24 are hypermarkets, 78 are supermarkets and 24 are franchise proximity stores. Polignac said the retailer plans to further expand all its existing formats in Romania. The next hypermarket Carrefour will open is located in south-western Bucharest on the former Vulcan industrial platform. Polignac offered no other information on concrete new openings and the company declined to comment on previous rumors that it was planning to leave Romania.
Simona Bazavan