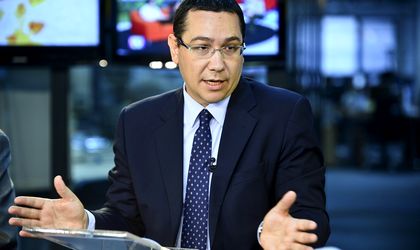 Romanian Prime Minister Victor Ponta announced Tuesday that he will give up his PhD in Law, which he received in 2003 from the University of Bucharest, years after he was involved in a notorious plagiarism scandal.
"I am writing to you to notify you about my decision to renounce the title of 'doctor in law' awarded in 2003 by the University of Bucharest. This is a gesture I should have done a long time ago, since the moment the first public accusations about my doctorate thesis appeared", Victor Ponta wrote in his letter to the University of Bucharest.
"I didn't go through with it because I believed in good faith in my arguments at the time when my work was being contested and I didn't want to mix up the professional aspect with the political," Ponta said in his Facebook post announcing the decision.
The PM said that he plans to make a new doctoral attempt, after his political career will be over, and that he will respect all standards and requirements valid at the corresponding time.
The official was involved in a plagiarism scandal started soon after he assumed position as Prime Minister and just before his political allies suspended President Traian Basescu for the second time. His doctoral thesis was allegedly full of information and content that was copied from other texts, without any sources being given.
The story first broke in international media and was run by Nature magazine in an issue published on June 18 2012.
Several commissions were set up to determine Victor Ponta's liability in this scandal. The University of Bucharest deemed the thesis a case of plagiarism, while the National Ethics Committee (the only institution Ponta recognized as an authority on the matter) said the work is valid.
In May 2014, Romania's Supreme Court ruled that Victor Ponta will not be investigated for plagiarism.