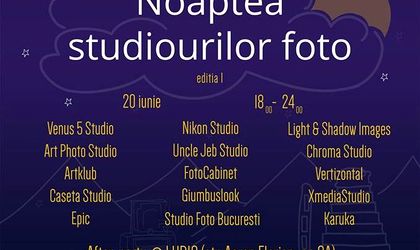 After museums, galleries, ad agencies and libraries… it's the photographers' turn to have their very own special white night in Bucharest. The Night of Photo Studios will take place on June 20, starting at 6 pm with events scheduled until midnight.
Uncle Jeb Studio is behind the initiative which will involve the following studios:
– VERTIZONTAL. Fotografie;
– FotoCabinet (http://fotocabinet.ro/);
– Light & Shadow Images (https://www.facebook.com/cipriandumitrescuphotography);
– Art PhOtO StudiO;
– Caseta (http://caseta.ro/);
– XMedia Studio;
– Studio Foto Bucuresti;
– Chroma Studio;
– Karuka Studio – Studio Foto Copii, Familie;
– Giumbuslook;
– ArtKlub;
– Venus 5 (https://www.facebook.com/DragosConstantinPhotography);
– Epic Bar.
"We came up with the idea when we first moved to our new studio, twice as large as the old one. We thought – what if we had lots and lots of visitors one night, people who have never seen what the inside of a photo studio looks like and who feel too intimidated by the idea of posing in front of the camera to even drop by? What if all the studios did that?", Ioana Epure told BR, owner of Uncle Jeb Studio.
The participants will organize special activities like photo shoots, workshops, raffles and giveaways. While most of the events will have free entrance, it's possible that some of them will require registration in advance.
More details about the upcoming event, such as information about participants, contests, awards and a map of the studios that are involved will soon be published on the official website for the event.
"What we want to do is to create a relationship between the photographers and these people, to show them that studio photography can be at the same time amazing and accessible to them, even if they are not professional models, agencies or photographers. We believe that people should know more about this business, and that it's our duty, as professionals, to show them what it's all about", Ioana Epure added.