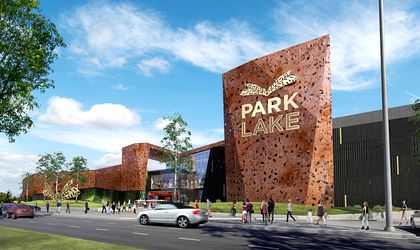 Developers Sonae Sierra and Caelum Development have announced the signing of a financing agreement worth EUR 83 million for the Park Lake project which is designed to open in 2016.
Located in the third district of Bucharest, ParkLake represents a total investment of EUR 180 million and will open in April 2016. Construction is on schedule, developers announce, with structural works in advanced stages, which will be continued by mechanic and engineering works.
The centre is located near Titan Lake and Alexandru Ioan Cuza Park, and is expected to serve 1.5 million clients.
The shopping centre rental rate exceeded 85 percent of its gross leasable area (GLA), tenants including fashion, accessories, technology and furniture retailers and a leisure area proposing services and restaurants and a multiplex cinema with 14 halls.
"ParkLake proved from the very beginning to be a successful investment project through its unique concept, the combination of tenants of a special quality and it has evolved rapidly, even more now through the signing of the financing contract. It is not surprising that we make another step forward in developing the project since construction works are well advanced and on schedule for the fall opening in 2016. We look forward to reaching maximum occupancy rate which, along with the impressive theme, design and architecture, will bring Bucharest a unique shopping experience," David Sharkey, CEO of Caelum Development said.
Sonae Sierra is an international specialist in shopping centres, owning 46 shopping centres with a market value of over EUR 6 billion. The company is present in 17 countries on 4 continents: Portugal, Algeria, Azerbaijan, Brazil, China, Colombia, Germany, Greece, Italy, Morocco, Mozambique , Romania, Russia, Spain, Slovakia, Tunisia and Turkey. Sonae Sierra manages and / or owns 87 shopping centres with a total area of ​​2.4 million sqm and approximately 9,100 tenants. In 2014, the company received over 440 million visits to shopping centres it manages. Currently, Sonae Sierra has seven projects under construction, including 3 for clients and 4 other new projects pending.
Caelum Development is a company specialized in real estate investment and development, owned by a private group of Irish investors with over 10 years' experience in the European real estate market. Headquartered in Warsaw, Caelum Group has a portfolio of 36 projects in Europe which includes 21 retail centres with a gross floor area of ​​200,000 sqm.
Natalia Martian