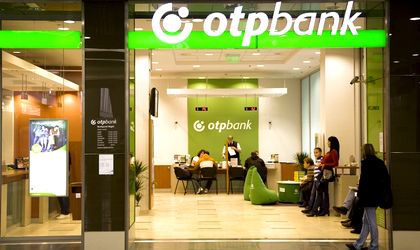 OTP Bank Romania posted a net profit pf HUF1.6 billion (EUR 5.4 million) in the first half of the year, from a EUR7.7 million loss in the same period of 2013, as lending increased 6 percent and interest and commission revenues grew by more than 22 percent, writes Mediafax.
The bank posted an operational profit of HUF 4.9 billion (EUR 15.9 million), compared to HUF 3 billion (EUR 10.1 million) a year ago, according to the report published by Friday. Total revenues rose 17 percent year on year, to HUF 11.3 billion (EUR 36.9 million).
"Operational profit increased 61 percent in annual rate. As for revenues, the improvement of revenues from interests reflect the bank's orientation towards consumption loans with high annual rates", according to the bank's statement.
Provisions dropped 39 months in the first six months of the years to HUF 3.2 billion (EUR 10.4 million).
OTP Bank Romania announced at the end of last month that it signed the contract to acquire Millennium BCP in a deal worth EUR 39 million which includes shares and integration cost. The contract specifies that OTP will receive 100 percent of Millennium Bank Romania shares and the bank itself will be integrated in the OTP Bank Romania structure after legal formalities and approvals are obtained, writes Mediafax.
Hungarian group OTP's total revenues fell 4 percent year on year to HUF 211 billion. Net fees and commissions also contracted, but operating costs dropped too, by 4 percent to nearly HUF 102 billion. Due to the deterioration of portfolio quality OTP created HUF 63.4 billion provisions in Q2, up 6 percent year on year. After-tax profit adjusted for special items came in at HUF 39 billion, which corresponds to a 26 percent yearly drop. The amount of adjustments reached HUF -192 billion, which led to a never-before-seen HUF 153 billion after-tax loss.