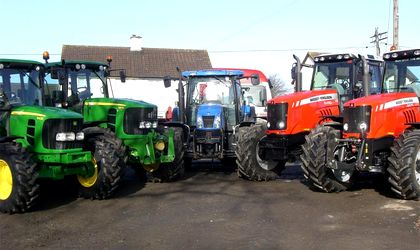 OTP Bank Romania announced the launch of a new financing product for the agricultural sector, addressing legal entities and PFA/ II/ IF clients who run activities in the agricultural sector.
The new product is intended for the purchase of agricultural machinery and equipment, as well as other goods used for farming activities. Both new and second hand equipment can be purchased.
The maximum amount granted is EUR 200,000 (RON equivalent), while the petitioner will be required to have a contribution of at least 10 percent of the purchased equipment's value (without VAT). The loan can be used in one or more tranches, within maximum 60 calendar days from the signing of the agreement and can be reimbursed within 60 months in equal monthly/ quarterly installments or unequal quarterly installments adapted to the specific production cycles (Q1 – 10 percent, Q2 – 10 percent, Q3 – 40 percent and Q4 – 40 percent of the annual payment amount value).
OTP Bank Romania, a subsidiary of OTP Bank Plc., is an integrated and self-financed provider of financial services. OTP Bank provides universal financial services in Hungary, Romania, Montenegro, Croatia, Bulgaria, Russia, Ukraine, Slovakia and Serbia for more than 13 million customers, through a territorial network of over 1,500 units, the ATM network and electronic channels.
The bank obtained in the first quarter of the year an operating profit of EUR 6.8 million, down 3 percent compared to the previous quarter and 15 percent against the same period in 2014.
Natalia Martian