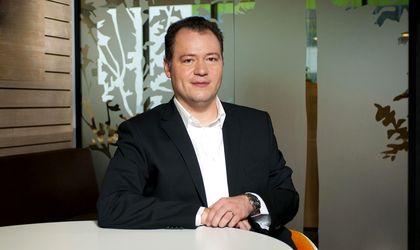 Orange Romania is on the verge of completing a major network upgrade project across Romania, which will provide improved coverage and better service quality. Stefan Slavnicu, chief technology officer, tells BR that, while coverage of "white areas" with mobile internet is a point on his agenda, it requires technical teams come up with innovative solutions to meet geographical challenges.
Otilia Haraga
As CTO of Orange Romania, what would you say are the toughest challenges in managing and developing the network?
The main challenge is to assure the perfect "recipe" and the "right weight of each ingredient" in order to offer what we like to call "an unmatched customer experience." Network quality and any related customer experience is a sum of many distinct factors such as expansion and improvement of coverage, network resilience, continuous optimization of existing services, development of new software and tools capable of offering real time information for any issue that may appear and fast answers to our customers' requests or complaints, to name only a few. Finding the right balance between operational efforts, financial investment and customer needs is our daily challenge. Looking at how we are perceived by our customers, validated by benchmarks such as the results published by ANCOM following real-life tests customers have run using the Netograf app, I can definitely say that we are on the right path.
What are your 3-month and 6-month targets in terms of network development and modernization at Orange?
Short-term, our main targets are to finalize the launch of the new service we have recently announced, Wi-Fi call, and to prepare the network for the winter holiday period.
Medium-term, we will finalize a major network development and optimization project we are currently running throughout the entire country, aimed at providing improved coverage and better quality of our services. We are now working on the final areas, like Timis, Dambovita, Alba, Caras-Severin, Constanta, Prahova, Brasov, Covasna and Valcea counties.
What is the full year investment budget that Orange has allocated for the development of the 3G and 4G network?
Through our new strategy, Essentials 2020, Orange Romania is confirming next years' investments aimed at developing the networks and services we offer our customers.
Overall, we are speaking about an amount that is larger than EUR 500 million for the timeframe 2015-2018, an important part being dedicated to 3G and 4G networks.  We are working with all main telecom suppliers.
How much do network development and modernization investments represent out of the entire Orange annual budget?
The majority of our yearly budget is dedicated to innovation, development and modernization of our networks.
Orange just ended a network overhaul project in urban areas (Urban Refresh). How much did that modernization cost and what does it actually mean?
Modernization consists in a full swap of older equipment with new technologies that are more efficient (full IP, higher capacities) and environmentally friendly (less space, less consumption.) The entire urban network chain (antennas, radio equipment, transmission links, and high capacity routers) was changed in less than 2 years. The investments were significant, similar to the rural area modernization that was performed few years ago.
How much did data traffic capacity increase in the Orange network over the past years?
Mobile data traffic is following an explosive trend, increasing by over 100 percent each year. Large scale adoption of smartphones, 3G national coverage, 4G fast network expansion, are all contributing to this evolution.
The mobile networks of telecom operators sometimes meet difficulties. From your own experience, what have been the most frequent network failure reasons in Orange Romania's case?
The most frequent incidents are related to electrical power supply network outages (mainly due to bad weather) or to the accidental cutting of optical fiber cables. It's to be noted that the majority of such incidents do not affect the service offered our customers due to resiliency measures that we have performed (the sites' autonomy is enhanced by adding additional batteries that support the service from hours to days, depending on the case and optical fiber cables are connected in a ring topology thus allowing for backup routes).
Is Orange part of the national strategy to cover white areas without internet with mobile broadband? Are you working on such a project right now, in which you are taking the company network to areas without internet?
Yes, we are working to cover an important number of "white areas". This program is part of the strategy defined by ANCOM at the moment of the spectrum auction in 2012. Coverage of the white areas is in progress. Due to certain constraints related to the geographical position of most of the listed locations however, technical teams face challenges and are required to seek new, innovative solutions. We are making every effort to meet the deadline for all white area objectives.
At the moment, what are the capabilities of the 4G networks of Orange Romania, in terms of download and upload speeds?
For 4G, we have implemented 4G+ (carrier aggregation) offering up to 300 Mbps download and 75 Mbps upload.
Stefan Slavnicu CV
Has been working for the past 15 years at Orange
February 2014 – appointed Chief Technology Officer of Orange Romania
2011- appointed head of Infrastructure Expansion at Orange Romania
2000 – 2011 he held the Network Expert and then Core Network Manager positions
Has an EMBA from the Maastricht School of Management in the Netherlands
Has a PhD in telecommunications from the Politehnica University in Bucharest