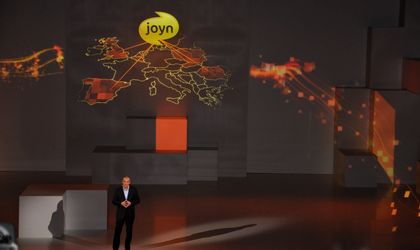 Telecom operator Orange, part of France Telecom, showcased the new products and services that it plans to launch between now and the summer of 2013 on the French market, during a technology display show in Paris on November 21.
Structured in four directions, "my networks," "my home life," "my data" and "my communications," the new announcements ranged from 4G to cloud and communication solutions.
The company already announced an estimated date for the launch of one of these services in Romania as well.
Joyn, a new three-in-one communication service which allows users to make voice and video calls, chat on the handset and at the same time share videos, pictures and documents with a group of people, has already been deployed in Spain. Starting with 2013, the service will be launched in Romania as well as other countries such as Belgium, Poland, Slovakia and France. The service will be present by default on a new generation of smartphones sold by Orange.
The new products and services of the company were presented by Stephane Richard (in picture), chairman and CEO of Orange, in front of a hall of about 700 partners, company representatives and journalists.
Other notable launches included the launch of 4G services for the corporate and consumer segments. After Marseille, which has had coverage since June 2012, the company will be deploying 4G to Lyon, Lille and Nantes. The first 4G offering will be marketed from November 22 for corporate customers and from February 2013 for consumers.
4G from Orange is likely to arrive in Romania before the end of the year. The company announced after the outcome of the telecom bidding that it will launch these services in the 1800 MHz frequency.
"We will start with 4G in Bucharest and then extend it to the rest of the country. We will be launching mass-market services at affordable prices," said Jean-Francois Fallacher, CEO of Orange Romania at the time.
In France, there are more than 20 near-field-communications (NFC) compatible mobile phones available in Orange shops, as announced during the launch.
Orange is testing NFC in Romania through a pilot project launched in June, 2012, in partnership with BRD- Groupe Societe Generale, and NFC compatible handsets are available in the Orange offer locally.
One of the services showcased for France during the launch was Orange Cloud, which offers up to 50 GB for each user and up to 100 GB for fibre customers with a Livebox Play and for 4G mobile customers from February 2013.
The company also closed a partnership with Facebook, to introduce more communication tools into social networks. Following this agreement, a first public teleconference service will be launched in summer 2013.
Report and pictures by Otilia Haraga, Paris