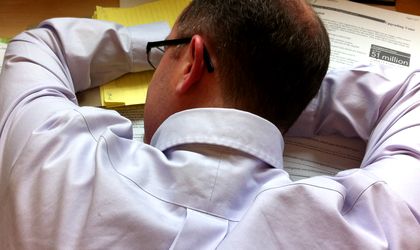 Romania has ranked the 9th position out of 14 European countries in a top that measures the employees' satisfaction with their professional life, according to a 2015 Edenred-Ipsos report. Moreover, 64 percent of Romanian respondents said they are dissatisfied with their purchasing power.
The report shows that 39 percent of Romanians are satisfied with their professional life, above the 36 percent European average. The highest levels were reported in Finland (53 percent), Austria (51 percent) and Germany.
Salary levels (33 percent) and keeping their job (39 percent) are the greatest concerns of European employees according to the same source. Europeans are also increasingly more dissatisfied with the fact that they spend too much time working – 28 percent in 2015 compared to 22 percent last year.
Romanians too are concerned by their salary packages (41 percent) and overall, 64 percent of Romanians are dissatisfied with their purchasing power. There are, however, differences between generations (70 percent of those aged over 45 vs, 60 percent of those under 45) and public (69 percent) and private workers (62 percent). Also, 59 percent of Romanian employs are dissatisfied with the level of extra-salary benefits (71 percent in the public sector and 59 percent in the private sector) while 85 percent said such benefits are improving their life and 87 percent that they help boost motivation.
Romanians are also concerned by unemployment (39 percent) but only 20 percent have a problem with spending too much time working.
Some 13,600 employees from 14 countries were surveyed for the 2015 edition of the report put together by pre-paid vouchers provider Edenred and Ipsos.
Simona Bazavan