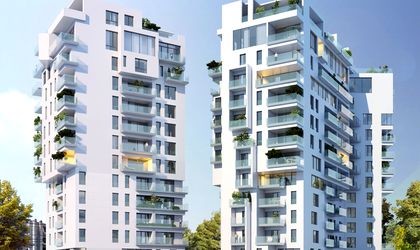 One United Properties announced the start of construction works on One Herastrau Park, an exclusive residential project expected to finish in March 2017. The project, located in northern Bucharest, a two minutes' walk to Herastrau Park, is designed by architect Marius Calin of X Architecture & Engineering.
One Herastrau Park has a surface of 27,000 square meters built and a total of 106 triplex apartments distributed in 2 buildings of 11 floors and two basements.
"One Herastrau Park is an exclusive project, both in terms of architectural features and integration into existing decor and when it comes to division of rooms and apartments. Taking into account that more than 50 percent was sold since the project phase, we can say it is a success," Beatrice Dumitrascu, sales director of One United Properties stated.
One Herastrau Park has views to Herastrau Park and Floreasca Lake and access will be from 12-14 Nicolae Caramfil and from 5 Zagazului street.
One and two bedroom apartments will be on floors 1 to 5, three bedrooms on floors 6 to 10, while the last three storeys will host triplex penthouses.
One United Properties is a real estate developer of exclusive residential complexes in central and northern Bucharest. The company has residential projects under construction totalling some 200 apartments. Company recent completed projects include One Floreasca Lake (15,000 square meters and 68 apartments – the first phase delivered in June 2013 and the second in August 2015) and Madrigal Residence (4,000 square meters and 14 apartments, delivered in September 2014).
Natalia Martian