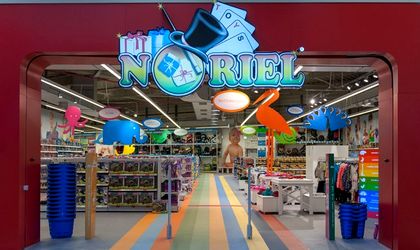 Toys retailer Noriel posted a turnover of EUR 30 million in 2015, a 30 percent increase over the previous year, supported by the opening of six new stores, a company statement shows.
The new units, opened under Noriel's "MegaStore" concept, brought the company's network to a total of 47.
"We announce again the best year for Noriel since the opening of its first store in 2009, for the second consecutive time. In 2015, we focused more on large format stores, the MegaStore, we closed some smaller formats, we have strengthened the online segment, while last year we introduced the ability to order online and pick up the merchandise from any shop selected," stated Cristian Constantinescu, CEO of Noriel.
The retailer opened stores with surfaces between 750 and 1,000 sqm, stating that the usual investment needed for a MegaStore is around EUR 500,000, but some units were classic formats refurbished. Of the 47 stores, 13 are in Bucharest.
The company estimates a 40 percent boost to online sales over 2014, after investing in the development of this sector.
Noriel plans to expand even further during the next years, aiming to reach 100 units until 2020, thus tripling its turnover.
The company was founded in 1993 by Mirela and George Constantinescu and in 1999 opened its own production center in Prahova. The Noriel group includes Noriel Impex (toys distributor), Toys and Games Industry (toy factory in Prahova) and Intertoy Zone (the physical and online retail division).
Natalia Martian