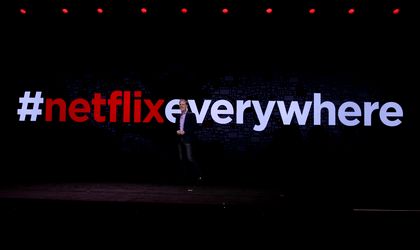 World's leading internet TV service is now live in more than 190 countries, including Romania. The company made the announcement  and then the service went live during a keynote by Co-founder and Chief Executive Reed Hastings at CES 2016.
"Today you are witnessing the birth of a new global Internet TV network," said Hastings. "With this launch, consumers around the world — from Singapore to St. Petersburg, from San Francisco to Sao Paulo — will be able to enjoy TV shows and movies simultaneously — no more waiting. With the help of the Internet, we are putting power in consumers' hands to watch whenever, wherever and on whatever device."
Netflix is available on virtually any device that has an Internet connection, including personal computers, tablets, smartphones, Smart TVs and game consoles, and automatically provides the best possible streaming quality based on available bandwidth. Many titles, including Netflix original series and films, are available in high-definition with Dolby Digital Plus 5.1 surround sound and some in Ultra HD 4K.
For Romania, first month is free of charge, then the subscriptions cost from EUR 7.99 (standard fare), EUR 9.99 (HD) and EUR 11.99 (ultra-HD). According to their official press release, members around the world will be able to enjoy Netflix original series including Marvel's Daredevil and Marvel's Jessica Jones, Narcos, Sense8, Grace and Frankie, and Marco Polo, as well as a catalogue of licensed TV shows and movies.
The company says that in 2016, the company plans to release 31 new and returning original series, two dozen original feature films and documentaries, a wide range of stand-up comedy specials and 30 original kids series — available at the same time to members everywhere.
Currently, Netflix is available in English, Arabic, Korean, Simplified and Traditional Chinese and other 17 languages, but Romanian isn't one of them yet.
"From today onwards, we will listen and we will learn, gradually adding more languages, more content and more ways for people to engage with Netflix," said Hastings. "We're looking forward to bringing great stories from all over the world to people all over the world."
After the announced has been made, the Romanian consumers are a bit disappointed, due to the lack of movies and series the company offers. Comments on news and blogs reflects Romanians' high hopes for American films provided by Netflix.
Oana Vasiliu