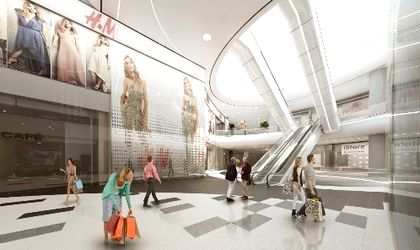 South African investment fund NEPI (New Europe Property Investments) will open the  Mega Mall shopping center in the vicinity of the National Arena in Bucharest on May 14, the developer has announced.The EUR 165 million shopping mall was supposed to officially open on April 23.
According to a press release, works on the 230,000 sqm project (72,000 sqm GLA) started about one year ago and includes 3,000 square meters of shop windows with a 14 meter height, five ellipsoidal domes, with a total area of over 750 square meters, and two large skylights covering 1,500 square meters.
Mega Mall is the largest investment the South African investment fund has made in Romania so far and the largest modern shopping mall to be delivered this year in the country.
NEPI is a commercial property company whose presently one of the largest real estate investors in Romania. It owns some 330,000 of commercial space the most important shopping malls in its portfolio being Promenada Mall Bucharest, Ploiesti Shopping City and Vulcan Value Centre in Bucharest. In addition to shopping centers, NEPI owns several office projects such as Floreasca Business Park and The Lakeview in Bucharest and City Business Centre in Timisoara.
Staff