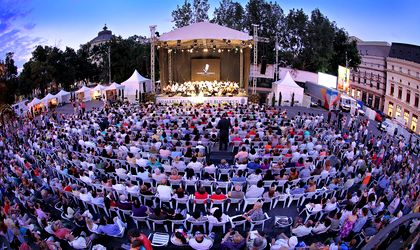 The magic of the Enescu Festival will extend beyond the concert hall into the street: music will be performed in George Enescu Square between September 14 and 28. The works of Tchaikovsky, Rachmaninov, Mozart, Vivaldi, Bach, Strauss and Enescu himself, among others, will be performed by top groups such as the George Enescu National Music College, Quarteto Barbera, the Ramnicu Valcea Philharmonic, Romanian Philharmonic, Orchestra Cammerata, Silvestri Orchestra and the Radio Big Band.
The series of events gets underway on September 14, with a concert by the Violoncellisimo Ensemble, led by Marin Cazacu. Jazz lovers are also catered for, as Mandinga and the Jazzappella Band will perform, while classical guitar fans will be entertained by the Trio Zamfirescu. All concerts in George Enescu Square are free of charge.
Creative Bucharest occupies the city
In September, the capital becomes Creative Bucharest, a vibrant space of originality, value, music and the plastic arts, open to anyone willing to explore more of the spirit of the Enescu Festival. Creative Bucharest will carry the mark of the composer, with reinterpretation through visual identity, creativeness in plastic forms and the promotion of the values the Maestro believed in. "One does not become old because one lived a number of years, but because one deserted one's ideal. The years wrinkle the skin but abandoning the ideal wrinkles the soul," said Enescu.
The green spaces surrounding the main concert halls – the Romanian Athenaeum and the Palace Hall – will be enhanced to become the "Festival Garden", presenting works by young artists selected during the Enescu Biennale. Between the two spaces forming the "Festival Garden", music aficionados can stop at the "Festival Place", which will host concerts and other musical events.
Popular streets and landmarks in the center of Bucharest (Central University Library Carol I, Colțea Square, Old City Center, Magheru Bd.) will be decorated with urban art objects created by various entities (companies, festival partners and NGOs), with festival-inspired themes and embracing the values that make a public space inspire people to open up and form a community.
Through "The Enescu Festival is also mine!", the organizers will share Creative Bucharest with all who love the festival, who believe Bucharest can be different and want to get involved in this city makeover, offering information that can be downloaded free of charge from their website.
The Festival Transmissions will see, for the first time, the organizers broadcast a series of concerts live on the screens of Digiplex Grand Cinema and the French Institute in Bucharest.
Strada de C'arte will take place in the last week of the festival, from September 21-28, at Boteanu Street, completing the cultural specter of Enescu magic through books and lectures.
Oana Vasiliu