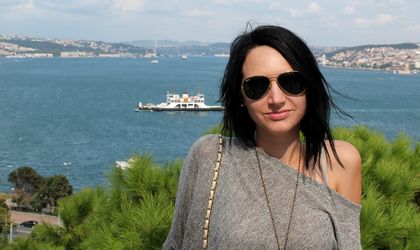 Anca Muraru is a Social Media Strategist working as a consultant while she travels and lives the digital nomad lifestyle. She also writes about social media, trends and travel at OFFice to Travel and has recently created a community for digital nomads in Romania with specially designed events. She comes from the advertising landscape and has a background in journalism, but now focuses mostly on helping the travel industry grow in the online environment. BR met with her and talked exclusively about her plans with the Digital Nomads Community that she is creating.
Romanita Oprea
Before we go any deeper, what exactly is a digital nomad?
The concept is relatively new, but not as recent as you would think. Though Internet was born in the '80s, only in 1999 the idea became technically possible and in 2006-2007 the early adopters started testing it. We could define the term as a freelancer, consultant, solopreneur or entrepreneur who works remotely and travels. The lifestyle is appealing and might sound impossible to many, but at the moment you can find digital nomads in almost every country in the world.
How did you decide to start the Digital Nomads community in Romania?
The story goes way back when I was dreaming of traveling and working at the same time. At that point, this was just a fairytale. Once the light bulb was on, it couldn't be switched off. In time I discovered there are many people who are already living my dream and I started listening to them and trying to figure out what they were doing in order to have this lifestyle.
A couple of years ago I decided I could do it too and one step at a time I managed to travel and work at the same time. I have discovered many communities of digital nomads and started joining them. A few months ago the idea of creating one in Romania seemed interesting and I gave it a thought, but it really came to life this summer in Berlin while attending DNX, the first global conference for digital nomads.
I was the only Romanian there (excepta few people who have Romanian roots, but haven't been living here in decades) and it looked like people were interested in finding more about Transylvania and our country in general. They don't know too many things because Romania is barely promoted, so I decided to implement my idea and provide a place where they can find everything they are interested in – the Digital Nomads in Romania community. For a digital nomad it's not that important to have 5 stars resorts, but the culture, high-speed Internetand extra activities are the appealing elements. It's great to be part of your target audience, because you know exactly how you can help others.
What was your inspiration?
People. Most of the time, no matter if I'm working on a social media campaign or on my own Office to Travel projects, people are the ones who inspire me. They'll tell you all you need to know if you only have patience to listen. At DNX, I met people who started communities in their own countries and had the same drive as I to create better places for digital nomads. They were the ones who pushed me to take action because I saw this community as a way of helping them and bringing in more value.
What international Digital Nomads communities do you appreciate and why?
It's not only based on the countries they are from, because we kind of are citizens of the world and we don't really have preconceptions about nationalities. We're in this game on our own and it's amazing to meet like-minded people on the road. It's something else that connects us – our mentalities and beliefs. Thus, some communities that I love are Webworktravel, DNX, Digital Nomads Academy and most recently the Digital Nomad Cruise. All of them connect us with other fellow nomads and provide resources for this lifestyle.
Johannes from Webworktravel has grown this community step by step and offers different events and facilities for digital nomads while he's working from Spain this year. He's also the founder of Digital Nomad Cruise, which is the first cruise ship with more than 100 digital nomads on board – it's a one-way ticket to Brazil. DNX projects include conferences, camps and events, all meant to help and connect us, while Digital Nomads Academy is a membership program where among the useful resources, forum and group, we have very helpful mastermind calls. Here we talk with members of the community; help each other with personal and professional dilemmas, but also keep ourselves accountable for reaching our weekly goals.
Do you believe that the trend of digital nomads is spreading in Romania as well or do you target more the foreigners that would like or would be interesting in seeing Romania and spending time here?
I am a firm believer in the digital nomad concept, either we call it by its name or we talk about people working remotely while traveling. I am sure this will be the future and I am happy that I got here among one of the first rounds so I can help others pursue this path, if this is what they really want.
I know there are some Romanian digital nomads, but the problem is that we don't have a place to connect, to meet and to share ideas. On the other hand, there are people from all over the world who might end up here, while traveling in Europe. As our origins are not that important, this is a place for Romanians who travel, but also for digital nomads who are interested in spending some time here, connect and help others.
Have you considered it a real business or is it more of a hobby and doing something new on the Romanian market?
It was born from both my wish of connecting with more digital nomads andmy desire of providing resources for people who want to experience Romania as a nomad. It could grow and become a real business, but I am taking it one step at a time and listen to people's needs and thoughts, so I can build an amazing community and provide additional services that could improve their lifestyle.  However, the core will remain the same and the focus will be to offer value.
What are your main goals with the community for the next 3 years?
Even though it's a new community, I already have quite a few goals.
Firstly, I'd like to connect people and provide a great place for those who are interested. Secondly, I want to attract more foreigners in Romania and introduce them to our culture in a way that will make them spend more time here and spread the word. It might sound like "big thinking", because in a way I want to promote Romania, but I believe in WOM and travel bloggers – they can do much more than an advertising campaign to reach foreigners. Moreover, I want to provide discounts and facilities that will make their staying here more pleasant.
And probably the most important aspects are the workations I am and will organize in Romania. When we're talking about "workations", we are referring to work + vacation in a place that provides all the things digital nomads need to work and have fun. Great minds get together for a week or two in a private villa where they connect, exchange ideas, work on their projects and also experience the place. The first workation I am holding will be in Transylvania, a place that attracts tourists, but with this concept, it's much more than just visiting.
The potential is real and once the project expands, the possibilities will grow and I'll analyze new opportunities that will come on the way.
How do you consider the Romanian digital advertising market at this point and how do you believe it embraces the freelancers?
I think companies and advertising agencies are open to the idea, but have a distorted image about it. They usually turn to freelancers when they want cheap and fast copywriting, design or web development services. Freelancers are not people who can't get a job, but mostly former employees who decided to follow this path because they have the knowledge, the skills and the courage to work on their own. There are people who charge hundreds and even thousands of euros per hour because they have expertise. There goes out the window the cheapness element.
A few companies, such as Buffer, have employees all over the world. They understand that no matter how many hours you work, the ROI is what matters. And at one point the companies in Romania will understand too, that it doesn't matter if you work from the beach, from a boring office or from a plane, as long as you provide the results they need.
The idea of being there physically is overrated in my opinion. I have had clients that I only met face-to-face after months of working together and never had a complaint. As long as you provide good quality, distance is no longer an issue.
I am optimist that as time goes by, agencies and companies in Romania will look beyond the old school model and understand the benefits of working remotely with people who enjoy their lives and bring more value.