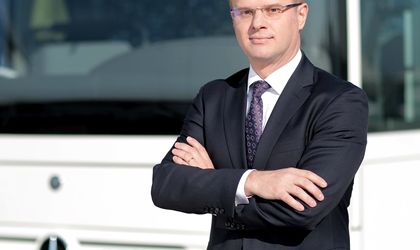 Mercedes-Benz Romania announced a new structure for its local branch, with the opening of two new divisions, in line with the global strategy. Therefore, the company appointed Philipp Hagenburger as managing director of the newly formed Passenger Cars division (starting February 1, 2016) and Valeriu Zaharia (pictured above) as managing director of Commercial Vehicles (starting November 1, 2015).
The two directors will coordinate the work of the two divisions, with overall responsibility for all aspects of the business they run – sales, marketing and after-sales service and coordinating the network of authorized partners. Mercedes-Benz Romania will still exist as a legal entity, with the powers of the CEO for all common activities being taken over by the managing director of the Passenger Cars division.
Hagenburger (pictured to the left) succeeds Boris Billich as CEO of Mercedes-Benz Romania, who left the company in November 2015.
Mercedes-Benz Romania is a company of Daimler AG, responsible for the import, marketing and sales for Mercedes-Benz, smart, Fuso, and Setra and coordinating a network of 36 authorized sales and service centres. In 2014, Mercedes-Benz merged with EvoBus Romania, with activities being transferred to Mercedes-Benz Romania, including the sale of new and used buses and coaches and service coordination centers.
Natalia Martian