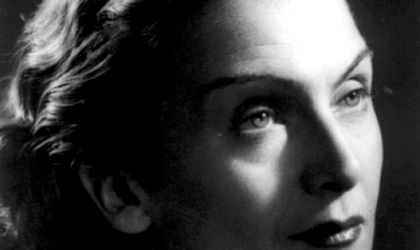 One of the nation's greatest voices, Maria Tanase has been described as Romania's Edith Piaf. September 25 marks a century since her birth, and the date is being commemorated by the National Bank of Romania, which is issuing a series of special-edition collectors' coins bearing the portrait of the Romanian chanteuse.
By Oana Vasiliu
This great Romanian folk singer had only 50 years to conquer the world with her voice, and she did so. Her worldwide tours and international recordings underline Tanase's status as a complete artist, with a voice that earned her the love of millions of people. Her beauty and spirit melted hearts, including that of the great sculptor Constantin Brancusi, who met her when she was 25 and he was 62. "When I listen to what you say, Marie, I could sculpt a Magic Bird for each song," says Brancusi, quoted by Petre Pandrea in his book, Brancusi – Memories and Exegesis. Tanase was raised amid women from various regions of Romania, thanks to her father's nursery on the outskirts of Bucharest. Spending time with them, the young Maria was captivated by the traditional rural tales and songs the women told and especially sang to her.
Taking flight
She made her stage debut in Caramidarii de Jos, her hometown, at the Ion Heliade Radulescu High School, and in 1934 joined the Carabus Theatre of Constantin Tanase. Her professional debut came on June 2, 1937 when she played musical hall theatres Alhambra and Gioconda under the stage name Mary Atanasiu. She went on to represent Romania at the International Exhibition in Paris in 1937, as well as at the 1939 New York World's Fair.
A year later, on February 20, 1938, Tanase's voice was heard for the first time on the radio. In the same year, she made her first recordings for the Romanian Radio Society, which stoked her international fame. Sadly, these early recordings are said to have been destroyed by the "authorities" during the first months of the NationalLegionaryState, when the singer was also banned from performing in public.
War effort
During World War II, along with George Enescu, George Vraca and Constantin Tanase, Maria Tanase performed to soldiers injured on the battlefield. In December 1943, she sang at the Christmas festivities of the Royal Cavalry Regiment, with King Michael I of Romania, Ion Antonescu, Mihai Antonescu and government members in attendance.
From stage to screen
After World War II, Tanase performed at the Review Ensemble Theatre and Constantin Tanase Satirical and Musical Theatre. She appeared in Leo Tolstoy's The Living Corpse in 1945, the musical comedy The Hollywood Sphinx (1946) by Ralph Benatzky and Horia by Mihai Davidoglu in 1956. Next came a film career: she sang in the movie Romania in 1947, and featured in both Ciulinii Baraganului (The Thistles of the Baragan), and the short-reel film Amintiri din Bucuresti (Memories from Bucharest) in 1958, while traveling frequently to New York City. On May 1, 1963, after a concert in Hunedoara, the singer was sadly forced to cut short her tour due to illness and she died under two months later, on June 22. Almost a million people turned out for her funeral, which became a national day of mourning.
Marking Maria
September 25, 2013 would have been Tanase's 100th birthday. In Bucharest, the great artist was celebrated only during the Balkanik Festival, at which the Balanescu Quartet performed some of her songs. No other event was held to mark her memory.
The National Bank of Romania launched three coins made of gold, silver and tombac to mark 100 years since Tanase's birth. One side of the coin bears the image of a gramophone, a symbol of the singer's first recordings, the inscription "Romania", the face value of RON 10, Romania's coat of arms and the year of issue, 2013. The other side features Tanase's portrait, her name and the years of her life.
oana.vasiliu@business-review.ro