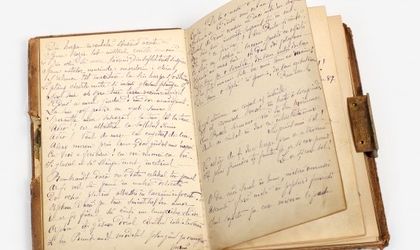 A rare manuscript containing the poem "Si daca ramuri" (And if branches) by Mihai Eminescu will be auctioned online by Lavacow, the local subsidiary of Artmark, on November 10, the company announced.
The manuscript, a notebook owned by a young lady whose name was not made public, contains the poet's signature below the poem and also texts by Iasi politician George Scortescu and Duiliu Zamfirescu. Coming from the personal collection of Corneliu Vadim Tudor, the manuscript will be auctioned starting at EUR 950.
The online auction organized by Lavacow contains 62 rare books and manuscripts, with prices starting at EUR 15. Among the important pieces, the public can browse "Mitul Eternei Reintoarceri" (The myth of the eternal return) with a handwritten dedication by Mircea Eliade (starting price: EUR 100), excerpts from the correspondence of George Enescu (starting price EUR 100), an unmarketed book by Emil Cioran (starting price: EUR 150), a volume of interviews with Eugene Ionesco, accompanied by his signature (starting price: EUR 180).
The pieces contained in the collection can be consulted at Cesianu-Racovita Palace, while the auction will take place exclusively online on November 10, starting at 20:00.
Lavacow is an online auction house dedicated to emerging European art. It organizes online-only auctions offering live streaming which allow participants to see each other and the auctioneer in real time. Lavacow is a subsidiary of the Artmark International BV, based in the Netherlands. The founding team is composed of the Artmark shareholders (Alexandru Baldea and Manuela Plapcianu) and Cristina Olteanu.
Lavacow is active on the local market since 2013 and posted a turnover of RON 674,053 (EUR 151,343) in 2014. With two employees in 2014, the company registered a RON 165,925 loss.
Natalia Martian