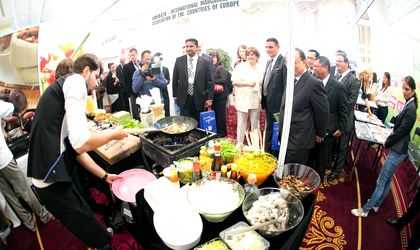 Eastern Europe's demand for palm oil is expected to grow considerably over the coming years and Romania could become a hub for Malaysian palm oil imports in the region through the port of Constanta, said Tan Sri Bernard Dompok, the Malaysian plantation industries and commodities minister, during the Malaysia-Romania Palm Oil Trade Fair and Seminar (POTS) organized in Bucharest this week, the first of its kind to be held in an EU country.
"The first step has been taken. We are here becauseRomaniais the ideal gateway to countries like Bulgaria, Hungary, Serbia and Ukraine(…). POTS Romania represents an important platform for Romanian and Malaysian private companies to meet and explore future business opportunities," he said during the event. The seminar was organized by the Malaysian Palm Oil Council, which represents 39 percent of global palm oil production and 44 percent of trade.
Dompok said Malaysian companies are interested in shipping palm oil into the region through the Constanta port, but no formal agreement has been reached so far.
"I have met with the minister of transport and some private sector interest has been shown to see how we can take part in the development of the Constanta port. Perhaps there could be some development that could help us in trying to get palm oil to Eastern Europe through Romania. This is an ongoing discussion and it is in an early stage but there are companies who would like to see this kind of business operating in Romania," he said.
Some 4,800 tons of palm oil were imported into Romania last year but this quantity could more than double in the coming years as demand for edible oil and fats goes up and sunflower oil production fails to cover it. By comparison, the domestic production of vegetable oil is estimated at 350,000 tons per year out of which 6 percent is used for non-food purposes.
Malaysian producers forecast that demand for palm oil will go up in the region, promoting it as a cheaper alternative to most edible seed oils and a healthy and sustainably grown product. Demand should grow also because the product is used as an input for the confectionery, pastry, dairy and cosmetics industries and fuel for renewable energy production, said Malaysian officials.
Palm oil was introduced on the Romanian retail market in 2006 and the country is so far the only one in the region where it is sold in small consumer packs. At present there are seven local distributors of frying palm oil, most of which are Romanian companies.
Malaysiais the largest exporter of palm oil in the world and the second largest producer. Last year it produced some 18 billion tons of crude palm oil from crops that cover 5 million hectares of land.
Bilateral trade between Romania and Malaysia amounted to EUR 36.8 million in 2011, up 36.6 percent y-o-y, according to Dompok. The bulk of Malaysian exports to Romania took the form of electrical and electronic products while palm oil accounted for 6 percent of the figure.
Trade between Malaysia and countries in Eastern Europe was recorded at EUR 3.11 billion in 2011, an increase of 20.5 percent from 2010. Exports posted an increase of 25 percent from EUR 1.73 billion in 2010 to reach EUR 2.16 billion in 2011, while imports rose 11.3 percent from EUR 0.85 billion in 2010 to EUR 0.94 billion last year.
Simona Bazavan