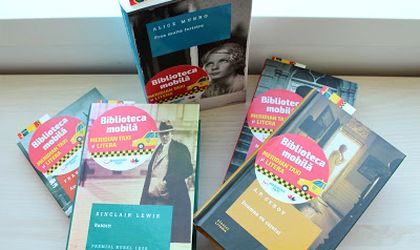 Starting September 3, the mobile library containing books from Litera publisher sets in motion across Bucharest inside Meridian Taxi cars, shows a statement by Litera.
Urban travellers will find waiting for them Too much happiness by Alice Munro, Lady with the puppy by AP Chekhov, Babbit by Sinclair Lewis, America by Frantz Kafka and Master and Margarita by Mikhail Bulgakov, available to browse for free. Books will be available in tens of Meridian's cars and will changed on a monthly basis.
According to organziers, the campaign aims to encourage reading, turning every moment into an opportunity and place to read.
"We are already at the third campaign we organize with Litera, always wanting to encourage reading and to offer our customers a precious gift: time to relax in the company of the most popular books of literature," Lucian Marin, executive director of Meridian Taxi said.
Litera, active since 1989 in Bucharest and Chisinau, has published 4,300 titles in a total circulation of 48 million copies. The publisher sold 1.6 million printed copies and 4,000 e-books during the first five months of 2015, according to wall-street.ro. In 2014, it published over 520 titles, a total circulation of 5.2 million copies, and had a turnover of EUR 10 million, up 4 percent compared to 2013.
With a RON 11.5 million (EUR 2.6 million) turnover in 2014 (a little over the one registered in 2013 and similar to 2012), Meridian Taxi leads among other taxi companies in Bucharest (according to RisCo.ro data). In terms of net profit, the company registered RON 101,069 (EUR 22,813.61) in 2014 and 206 employees.
Natalia Martian