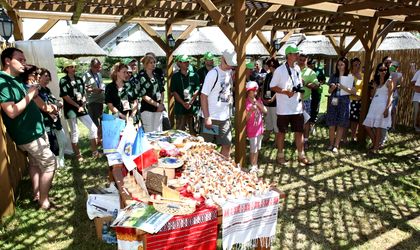 Despite the squeeze that the ongoing financial crisis is exerting on the budgets of both local and multinational companies, the Romanian CSR market is moving to the next level. Rather than just funneling cash into ad hoc image-friendly projects, there is a new focus on relevance, sustainability and community, CSR professionals told BR.
By Anda Sebesi
Many local and multinational companies active on the Romanian market have focused their attention on corporate social responsibility (CSR) projects in recent years: Coca-Cola HBC Romania, Raiffeisen Bank, BRD, RBS, Heineken, Rompetrol, Petrom, Vodafone, Actavis, Orange, GlaxoSmithKline, Cosmote, Apa Nova, E.ON, Unicredit Tiriac Bank and Ikea are just a few examples. But what does CSR mean and how do players define the concept? According to the Harvard Kennedy School, CSR "encompasses not only what companies do with their profits, but also how they make them. It goes beyond philanthropy and compliance and addresses how companies manage their economic, social, and environmental impacts, as well as their relationships in all key spheres of influence: workplace, marketplace, supply chain, community and public policy realm."
As in many other fields of activity, the progress of CSR on the local market has been in line with Romania's development as an emerging market. Romania clearly lags behind Western European countries and the US in terms of its CSR market, as international companies have been rolling out CSR projects for many decades. "The evolution of CSR in Romania keeps pace with the progress made by our society. Benchmark values are often given by deductibility thresholds permitted by the tax environment and by employees' voluntary contributions, either in cash or as community work," says , Daniela Nemoianu, executive partner at KPMG. "The economic and financial power of Romanian companies and of the national economy is overall much lower while civic spirit and the resulting propensity are still under the influence of the old mentality. It is important that we keep going, even if in small steps, that we share our CSR experience and are constantly open to any active contributions," she adds.
Many CSR projects in Romania now are supported by multinational companies. This has brought added value to the market, as group strategies require subsidiaries in Romania to be in line with the international demands. "Companies' involvement in CSR projects is visibly changing, mainly because of the more strategic approaches taken in the past few years. While initially CSR actions were chosen for their emotional impact and without reference to the specifics of the business, more and more companies have now established clear strategies depending on the areas where they have an impact," says Laura Sgarcitu, CSR coordinator at Coca-Cola HBC Romania.
CSR activities have diversified a lot in recent years, from simple financial support for NGOs or directly to beneficiaries in the form of sponsorships, to projects developed in fields such as the environment, health, education and animal protection. "More and more CSR projects now focus on supporting those causes that bring benefit to a larger community. Regardless of the project launched, the involvement must be on the long term in order to create real change in the life of the direct beneficiaries of the investment made by a company in a CSR project," says Floriana Tanase, senior director of regulatory, legal and corporate affairs at Vodafone Romania.
And companies are heeding this view. Another trend on the local market is to develop long-term programs that have a positive impact in the communities that benefit from strong and ongoing projects. "The concept that informs these new trends is sustainability or sustainable development, as part of a company's business strategy," says Sgarcitu. In her opinion, beyond CSR projects, companies are looking more and more for an overview that embeds them, which means they assume the responsibility for the resources they use and community where they are active. "It is no longer enough to be involved. It is important how you do it, how hard you do it and what is the impact of your actions on communities because consumers have higher and higher expectations," adds Sgarcitu.
One notable development of the Romanian CSR market is that companies have moved towards selective CSR, focusing on priorities and enduring outcomes rather than on a simple allocation of funds. Projects have diversified and gained in scope, and corporations have often joined forces for a common cause. "Many companies are now taking action through their own foundations, they publish CSR reports to raise market awareness and inform the public, they have built their own dedicated teams and encourage their employees to volunteer, providing them with financial incentives or free time to become actively involved, and not just as a one-off, by allocating 2 percent of their income to such projects," says Nemoianu of KPMG.
Specialists say that the Romanian CSR market has seen a switch from social projects to ecological ones, green energy, health, art and culture, and business ethics. "You can see that companies and society are closer to another through CSR projects that generate sustainable development. We can see a transition from the classic CSR to CSV – creating shared value," say Raiffeisen Bank representatives.
"CSR in Romania has developed both with the support of NGOs that have become a stronger voice in the market and companies that have decided to get involved financially or with the support of their employees through volunteering programs," says Tanase.
Ana-Maria Draganica, communication manager at Actavis, says that while interest in CSR programs has increased significantly in the past two years in Romania, effort must be made to improve the stage of research and analysis before starting a CSR campaign.  "We could also get volunteers to be much more active to help communities," says Draganica.
A new wave of trends
The Romanian CSR market has clearly started to become a unitary one, using sustainable development strategies. Another trend has seen transitory, image-based projects give way to those based specifically on the resources that a business uses. "It is a welcome shift from enthusiastic volunteering to a more responsible kind," adds the Coca-Cola HBC Romania representative. She also emphasizes that a very important issue is reporting. "The next level of CSR activities in Romania must be transparency in the reporting of a company's activity. Saying that you will do some things is just one part, while proving it through a report is a necessary step forward," adds Sgarcitu.
Elsewhere, Nemoianu of KPMG predicts that CSR projects will gain momentum mainly in education, supporting disadvantaged groups and environmental protection. "I would insist on education, as this sector is lagging behind the current needs of the economic and social environment. An education system driven by contemporary realities and by future actions for a sustainable development is an ideal that we should all aspire to and which should mobilize us in an enduring process," adds the KPMG representative.
The entire CSR report can be downloaded from here.