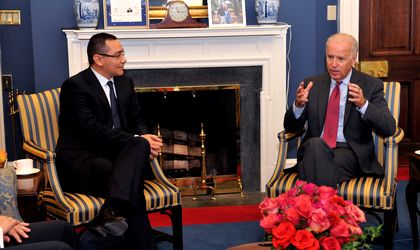 After arriving on Tuesday in the country, Joe Biden met up with prime-minister Victor Ponta and president Traian Basescu on Wednesday, as per the established schedule.
After meeting with the PM, Joe Biden made the mistake of thanking "the president" for his commitment to strengthening Romanian-American relationships:
"Mister president, thank you for your commitment to strengthen our relationship, for your contribution to make your future and ours better. God bless the Romanian people, God bless America and God protect our troops, the Romanian troops, the American troops in Afghanistan", Biden said at the end of his visit at the Government, quoted by MEDIAFAX.
The vice president, the prime-minister and a couple of ministers attended the meeting at Victoria Palace.
Joe Biden's main talking points
Russia. Joe Biden said on Wednesday, while at the Cotroceni Palace for his scheduled talk with president Basescu, that if Russia will "undermine" the elections that are taking place on Sunday in Ukraine, the US will be forced to apply harder sanctions against Russia.
"If Russia undermines these elections … we must remain resolute and impose greater costs to Russia and (be) equally resolute to invest in the NATO alliance," Biden said after talks with Romanian President Traian Basescu.
Energy independence. The United States of America are ready to give Romania all the help it requires to assure its energy independence and to compensate for the resources it is currently getting from Russia, Joe Biden said after meeting with Victor Ponta.
"National and energy security are inseparable in this part of the world. We need to make sure that Russia will not continue to use its energy resources and the countries' dependency on these resources as a weapon. For this reason, we believe in developing a strong and secure energy market in Europe. (…) Our support is welcomed and we are ready to offer assistance, given that we have some experience in this area", Biden said.
Romania's role in the development of this new European energy market is vital, the vicepresident affirmed, given that Romania can become the bridge between the markets in the Black Sea area and the Central and Eastern European region.
Corruption. The American vice president believes that corruption is "another form of tyrany". When politicians can be bought, alongside courts and journalists, it creates the perfect context to manipulate a society from the outside.
"Corruption is another form of tyranny and it can represent a danger not only to a country's economy but also to its national security. There are countries that exploit corruption to exert negative influence and undermine the sovereignty of their neighbors', Vice President Biden said in his closing speech before leaving Romania.
"When politicians can be bought, courts can be bought and the press engages in propaganda, that where you will find a society that is manipulated from the outside, a society that loses control over its own destiny. We've already seen in Ukraine how 15 years of corruption have undermined their military system and their capacity to protect themselves', according to Biden.