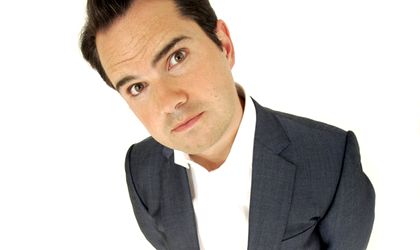 Famous British stand-up comedian Jimmy Carr will perform for the first time in Romania on June 3 at Sala Palatului. Livehouse is organizing the event, the same company behind the Eddie Izzard, Dylan Moran and Pablo Francisco shows in the past.
Jimmy Carr is famous for his raunchy one-liners and the hilariously offensive way he deals with hecklers. Carr is one of the most active stand-up comedians on the British scene, constantly on tour.
During the span of his stand-up career he has launched 8 DVD specials and has become a well known British TV personality hosting various variety programs.
The comedian is also infamous for his troubles with the IRS. In June 2012, Jimmy Car apologized for using K2, a special tax avoidance scheme. Under the scheme he sent the money offshore and was then loaned back the sum, thereby cutting his tax bill to just GBP 10,000 for every GBP 1 million earned.
Tickets to the show, which is called Gagging Order, are already available online on myticket.ro and in Diverta bookshops. Prices stay between RON 100 and RON 250.