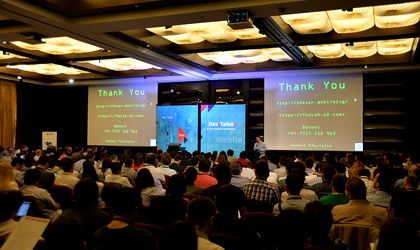 DevTalks, event dedicated to developers and IT professionals in Romania, will take place this year with a local edition, in Cluj-Napoca. Those who are interested in technological evolution in Web, Cloud Computing and Big Data area, can register to DevTalks Cluj-Napoca. The event will take place on May 13 at Grand Hotel Italia. DevTalks Cluj-Napoca aims to bring together over 350 IT professionals, BI/Big Data specialists, IoT, Mobile & Web developers, IT passionates who will participate in a series of sessions focused aroud key issues and passionate interest IT development.
University center and important software development and IT center in Romania, Cluj-Napoca will host during a day, the most important event dedicated to IT professionals, DevTalks Cluj-Napoca edition. 15 international speakers and top locals, over 350 IT professionals, 4 partner companies that invest in IT specialists'development in Cluj-Napoca, 7 hours of technical content and pannel discussions, are the numbers that define the first edition DevTalks Cluj-Napoca.
After the success of the last year DevTalks edition that took place in Bucharest, the event becomes nationwide, this year being present also in Cluj-Napoca. DevTalks event is structured in 4 areas, each area with information and professional development opportunities for IT experts:
 – 4 scenes named according to the topics addressed: The Future Web, Mobile & IoT, Cloud Computing and BI/Big Data. Appreciated leaders in their field will share their knowledge and experience. International speakers from different parts of the world: Switzerland, Belgium, England, Holland and Czech Republic will be present at Cluj-Napoca, on May 13, at Grand Hotel Italia.
 – Exhibitors Area: The area where DevTalks participants will have access to a series of technological innovations, portable devices, aplications and many other software and hardware solutions presented by event partners. Companies that want to attend the event can register contacting us at the address contact@devtalks.ro.
 – Networking area: The interaction with other participants is an important aspect, a moment that has a special place at DevTalks event. Within this area, IT professionals, those who have similar professional interests, can interact with each other, share ideas, resources and information. Networking is a key part in creating contacts and also an important aspect in professional development.
 – Engage through MyCONNECTOR app – an application making possible for DevTalks participants to connect at a one-to-one level. The attendees learn about other participants, can contact with each other and settle meetings with participants that have similar interests.
The agenda of DevTalks Cluj-Napoca 2015 event comprises four parallel scenes, during which will be discussed about new trends and solutions, practical situations and cases. Some of the topics addressed in each scene and speakers who will present are:
 – The Future Web Scene – Power breakfast: 3 leaders on the Future of Software Development. Scientific Programming & More (John Morton, Jiri Tobolka si Robert Jenkins), The Rise of HTTPS: Why, How and What it means for Web Developers (Daniel Appelguist);
 – Mobile & IoT Scene – Streamlined local development with Vagrant and Ansible (Thijs Feryn), Android Connected, real life Android Apps from IoT world (Marius Mailat);
 – Cloud Computing Scene – New Possibilities with Cloud-based Records (Marco van den Akker), Scaling .NET applications in AWS (Liviu Costea), Developing and Testing in the Cloud (Stefan Cosma);
 – BI/Big Data Scene – Does Big Data Analytics enable business success? (John Morton), Getting things done with ElasticSearch (Thijs Feryn), Complex Realtime Event Analytics Using BigQuery (Márton Kodok).
The event is being supported by: IBM, Accenture, Endava, Luxoft Romania, Deutsche Bank Technology Centre si Brainspotting. Also, DevTalks has the support of IMWorld and Hipo.ro  and over 15 developers communities in Romania.
As a partner of the event, Hipo.ro offers 100 free invitations to DevTalks. Those who want to participate can register on www.hipo.ro , the section dedicated to the project until April 17.
More details about how to register and also the DevTalks Cluj-Napoca agenda can be accessed on www.devtalks.ro or at the section dedicated to the project.