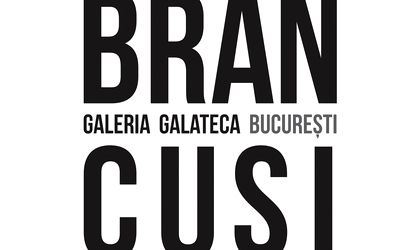 Created by contemporary artist Mihai Zgondoiu and writer Dan Mircea Cipariu in the context of the celebration of 100 years since DADA movement was born (Cabaret Voltaire is founded on February the 5th 1916 ) and 140 years since the birth of Constantin Brancusi (February the 19th 1876), this experimental project seeks a (re)reading of some of Constantin Brâncuși iconic quotes, works and vision through a DADA-ist filter.
The quotations of Brâncuși have been selected from the anthology written by Doina Lemny (researcher at  Centre Pompidou) and art history professor Cristian-Robert Velescu and will be used to create DADA poem-collages by the visitors of the exhibition. The concept of the exhibition also includes several works by Mihai Zgondoiu (objects, photography, video-art) and seven picto-poems signed by Dan Mircea Cipariu and Mihai Zgondoiu. The program will include a conference related to Romanian and international avant-garde art held by researchers and specialists  in Brâncuși and the DADA movement: university professor and art-critic Cristian-Robert Velescu, curator and editor of "Arta" magazine Igor Mocanu with special guests such as musician and poet Ioan Bogdan Stefanescu, theatre director David Esrig and academic Timothy Ship, who is also the curator of the International Dada Archive and Liaison for the Arts and Literature, Special Collections, University of Iowa Libraries, and editor-in-chief of "Dada / Surrealism ".
"A (re)reading and a reinterpretation in DADA style does not banter or cast a shade upon the work of the great Romanian sculptor Constantin Brâncuși, who has hosted in his Parisian studio, many artists and writers from the Avant-garde, such us: Marcel Duchamp, Francisc Picabia, Tristan Tzara, Marcel Iancu. This artistic project rather emphasizes the freshness of his work and the experimentalist vocation in his creative process. This creative process is, for the most times, a mixture between hazard and contemplation, or between research and inspiration," as Mihai Zgondoiu comments about the project.
The interactive contemporary art project « DADA BRANCUSI. A (RE)READING BY DAN MIRCEA CIPARIU & MIHAI ZGONDOIU event will take place on Friday, February 26, at 7pm, at Galateca Gallery  (C.A. Rosetti no. 2-4 in Bucharest).
Oana Vasiliu