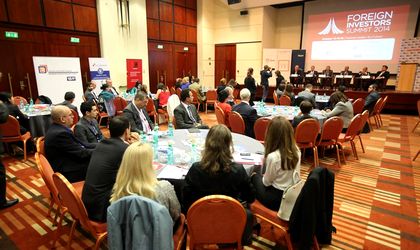 Foreign Investors Summit, the biggest investment forum, organized by Business Review, brings in the foreground Romania's competitiveness and its investment potential, on October 26-27-28, at World Trade Center Bucharest, Pullman Hotel.
The event discusses six major industry engines of the Romanian economy: IT&C, auto, infrastructure, agriculture, energy and real estate, within general debates and panel discussions focused on topics specific to each industry.
Among subjects: what industries contributed to Romania's growth, the second largest increase in the EU, financing new industries, sustainable development in all economic sectors, the best opportunities for new investments and business development, best practices for attracting specialized human resources.
Which measures should Romania take in order to attract more investments and to determine the foreign investors to maintain/relocate their business to our country versus countries in the region?
"Romania has an outstanding growth story among the countries in the CEE region and the European Union, with the highest growth rate in the EU in the first quarter of 2015 and the second-highest in the second quarter. This exceptional growth story should be continuously promoted to foreign investors and one of the best ways to do that would be to have more IPOs of both state-owned companies and privately-held companies" – says Mark Mobius, Executive Chairman, Templeton Emerging Markets Group. Mark Mobius will speak during the first day at Foreign Investors Summit, on October 26th.
"We need to define the role we can and want to play. Romania must be consistent in following its objectives and in its actions. Romania needs stability and predictability, both major characteristics for increasing investment appetite. These two criteria are the real basis for any growth prognosis both for companies and for the economic arena" – Daniela Lulache, CEO, Nuclearelectrica, speaker in the Energy debates, on October 28th.
"Foreign investors' access could be facilitated through improving infrastructure, including by increasing EU funds absorption. Also, there is need for predictability and transparency in the legal system. Furthermore, it is important for Romania to take measures against the image deficit it's suffering from internationally. Reality is often better than the perception Romania has externally and it is crucial for us all to make this known" – Eric Stab, President, Foreign Investors Council, speaker in the Romania's Competitiveness in SEE and the EU panel, on October 26th.
Among speakers who will also be present at the 2015 edition of the Foreign Investors Summit: Angela Filote, Chief of Representation of the European Commission in Romania, Ludwik Sobolewski, General Manager, Bucharest Stock Exchange, Alexandru Nastase, Secretary of State, Department for Foreign Investments and Private Public Partnership, Ana Maria Mihaescu, Regional Manager, IFC, George Stan, Chief Investment Officer, Teamnet Group, Varujan Pambuccian, Member of the Commission for Information Technology and Communications of the Chamber of Deputies, Kostas Loukas, General Manager, Microsoft Romania, Nicolas Maure, General Manager, Dacia Renault Romania, Catalin Homor, Investment and Public Procurement Manager, Metrorex, Martin Zmelik, CEO, CEZ Romania Group.
The event addresses public and private sector representatives, decision makers in companies, entrepreneurs, representatives of embassies, foreign investors communities and all those who want to develop their business and connect to an audience of top business. The first edition of the Foreign Investors Summit has hosted over 600 participants from all sectors and fields, 14 international communities, over 50 C-level speakers, with debates on over 40 topics of interest.
Daily schedule will be between 8:00 and 17:15, participants having the option to choose when registering what debates they want to take part in. For more details about the agenda and the speakers invited at Foreign Investors Summit, visit summit.business-review.eu.
All those interested in participating in the Foreign Investors Summit can register online or contact the organizer, Business Review, at events@business-review.ro or 031 040 09 31.
Event's parteners: Vodafone, CBRE, CEZ Group, Imobiliare.ro, Immofinanz, Lufthansa, Noerr, Oregon Park, Ploiesti West Park an Alinso Group development, Teamnet, Telekom, Titan Machinery, Ymens.