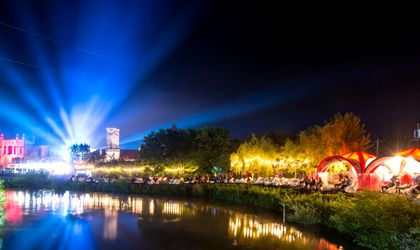 It's mid-July so it's Electric time. Of course, with rain and mud and everything, as previously experienced here. But we are on our way to one of those festivals and you'll find critically acclaimed bands, world-famous artists and once in a lifetime performance to the background of a beautiful sunset in an idyllic castle territory.
As you may know, Electric Castle is a unique festival experience that combines music, technology and alternative arts. It features many genres of music including rock, indie, hip hop, electronic and reggae, as well as art installations. This year, on the stages will be Claptone, Dimension, Axel Thesleff, Mihigh, K!d Chriss, Paul K, Missile&Goranga, Brusten, Zedd, Moderat, Sohn, Slaves, Âme, A-Trak, Beardyman, Francesca Lombardo, Cassy, Metrik & Dynamite MC, Byron, Golan, The Wax Road, BAB, Crazy P Soundsystem, Andrey Zots, SATELLITES, Borrowed Identity, Zion Train, Dillinja, Boca 45, SIMPLE SAMPLE, Pokyman & Lukie Fwd, Dennis Korablev, Abelle, ABC, Addo, Grid, Alt OM, Marc Roberts, IORGOVAN, Paul Van Dyk, Nero, UNKLE, Maceo Plex, Dixon, Dub Pistols, GusGus, Cedric Gervais, Fanfare Ciocârlia, Robin & The Backstabbers, Luna Amară, Tommy Cash, Timo Maas, Punnany Massif, Bohemian Betyars, Nicola Conte, FlicFlac, Zwette, Petar Dundov, Reggae Roast, Ishan Sound, Charlie, Herodot, Suciu, Cap, Emi, alt-J, Duke Dumont, Architects, DJ Sneak, Eats Everything, TroyBoi, Subcarpati, Coma, Macanache & The Putreds, Etherwood, Mistajam, MJ Cole, Counterfeit, Onuka, Jurjak, The Mono Jacks, Boris Dlugosch, Soom T & J Star, Kenny Ken, Renegades of Jazz, Priku, Arapu, Gescu, K!d Chriss, Sepp, DWLS, deadmau5, Franz Ferdinand, Trentemøller, Noisia 'Outer Edges', House Of Pain, Atari Teenage Riot, Youngr, Clark – Death Peak, Mind Against, Sonja Moonear, S.P.Y, Suie Paparude, Mike Skinner, Kornel Kovacs, Diamonds Are Forever, OBF feat. Shanti D, King Jammy, DJ Patife, Basement Freaks, Barac, Mihigh, G 76, Zefzeed, Lizz, Cosmjn, RQZ, Paul K, MadLiquid.
Read also: Challenge: Restoring the Banffy Castle – what's the role of music festivals
But what's more at Electric Castle? The brand experiences, as you can see below.