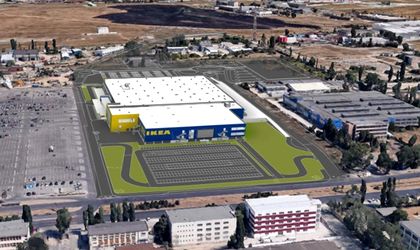 Swedish furniture retailer Ikea has started the construction of the second store in Romania, which will be finished in the second half of 2018 following an investment of around EUR 86 million, which includes the acquisition of the land.
The store will be located Theodor Pallady Boulevard, the third district of Bucharest, and will cover 37,000 square meters. It will have 1,300 parking places and charging stations for electric cars. The store will also host a restaurant with 550 places and a greenhouse of 800 sqm, alongside an Ikea Café.
"We aim to grow from 3 to 13 stores by 2025 in the South-East Europe area comprising Romania, Croatia, Slovenia and Serbia, and nine of these stores will be in Romania," said Stefan Vanoverbeke, country retail manager of Ikea SEE. He added that the company aims to open new stores in Timisoara, Brasov and Cluj, but the start of the construction depends on permitting and infrastructure.
Meanwhile, the second store in Bucharest will be opened towards the end of the summer of 2018, said Vladislav Lalic, property and expansion manager Ikea SEE.
The new store will have 300 employees. Ikea bought the land in the Pallady area in June 2015 and secured the construction permits from the Bucharest City Hall in December 2016.
The first Ikea store in Romania, located in Baneasa area, was launched in a franchise system in 2007. Three years later, the store became part of Ikea Group.