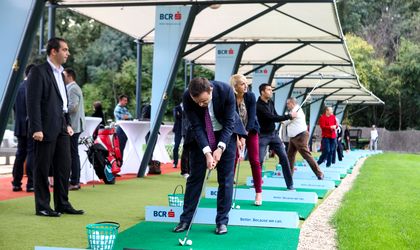 As autumn increases its grip on the city, Business Review celebrated the last days of sunny weather alongside partners, clients and friends. The famous autumn colors were a perfect backdrop for a round of golf on the green fields or even learning how to spice up our wardrobe. The garden party, aimed at bringing BR's friends closer, was also host to a special event: the BR Club launch.
Natalia Martian
On October 1, over 100 business owners, executives, officials and entrepreneurs joined BR for a day of celebration at Stejarii Country Club. Between cocktails, networking and the sharing of fun and often paradoxical facts about Romania, ladies were pampered by a wellness and beauty session held by Raluca Dobrovolschi, while gentlemen headed to the golf course to practice their swings.
Raluca Dobrovolschi's workshop centered on 10 myths most women base their wardrobe on. Do we need to match our purse with our shoes? Do prints make us look rounder? Is a black dress a must-have in any wardrobe? Can we mix two prints? These are some of the questions the image consultant tried to answer along with practical examples of do's and don'ts.
Raluca Dobrovolschi is a Swiss Image Institute graduate and a specialist in social and business etiquette. Under the motto image speaks, she has been sharing her passion for personal image for four years.
Meanwhile, the men present (and some of the ladies) showed off their skills with a putter on the Club's driving range, aided by an instructor, the (still) good weather and plenty of laughs.
Along with the last days of good weather, BR had another special event to celebrate: the launch of BR Club. Designed to offer an exclusive experience, BR Club opens new horizons for our partners.
"We built BR Club like a journey with a wealth of resources for members: member get-togethers, excellent learning and networking experiences, access to Business Review B2B conferences and many more. The club will bring together business-minded people in C-level positions, as well as entrepreneurs, offering thus a platform for high-level networking that creates synergies and opportunities not found through other avenues. The BR Club is essentially meant to remove obstacles to doing business, to provide its members true value, lots of privileges and benefits," Oana Molodoi, BR business development director said.
With over 250 B2B events under its belt, BR can offer a wide range of networking opportunities, business-centered information and inspiration.
While Americans typically use the word fall, the British use the word autumn, though both terms date around the 16th century. However, before these terms came to be, the period was called harvest. BR's garden party turned out to mark the start of a good harvest period for our guests, with lasting relationships starting right there, as some participants told us.