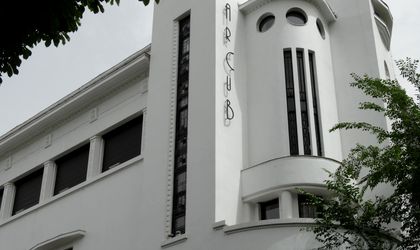 While the cultural venue ArCuB usually catches the attention for what is happening on the stage, the building itself is equally worthy of note, encapsulating as it does the attractive elements of the Art Deco style. Business Review took a look at some of its features, and the history that lies behind them.
By Anca Ionita
One of the Art Deco architectural style's flagship Bucharest buildings today houses the Centre for Cultural Projects of the City of Bucharest, ArCuB. Located in the very heart of the city, on the narrow yet very busy Batiste Street (behind the Intercontinental Hotel and near the Bucharest National Theatre), the building showcases the quintessence of the Art Deco style, which put its mark on Bucharest's architecture in the inter-war period.
Built between 1932 and 1934 for the Bucharest City Hall Civil Servants Union, as a recreational and meeting venue, by the architects Radu Culcer and Ion Rosu, it was called the City Hall Civil Servants Palace. The monumental two-wing marble staircase from the first floor leads to a 320-seat auditorium. A huge mirror placed at one end of the entrance hall reflects the geometrical design elements of the interior, made out of wood, iron, marble and glass. The use of these expensive materials was a trend at that time and it is what made many of the Art Deco buildings built in Bucharest in the 1930s (such as the Telephony Palace on Calea Victoriei, located today next to Novotel) resist the corrosive efforts of the time and weather, as well as the devastating impact of earthquakes.
Art Deco is the modernist movement of the eclectic Beaux-Arts style in local architecture (which had represented the success of capitalism in Romania so well), tamed by a classic-monumental approach. It represented the progress of technology at the beginning of the 20th century, symbolized by geometrical and functional interior design elements suited to the local context.
These design elements adorn both the façade and the interior of the ArCuB building. And the inside can be visited, if you decide to buy a ticket for one of the concerts, theater or dance performances hosted by ArCuB (www.arcub.ro) during the spring and fall season.
anca.ionita@business-review.ro