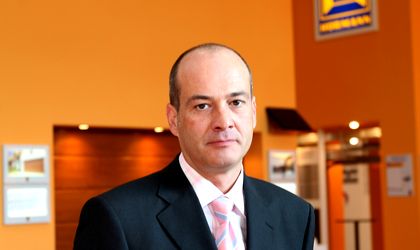 Hörmann, the largest European producer of garage doors and loading technique, estimates a 10 percent growth in the turnover due to additional demand in the industrial sector.
The industrial doors generated 75 percent of the turnover last year, while demand in the residential segment remained subdued. The small price remained the main driver for sales that were the highest in Bucharest.
"2012 was atypical, starting with the recovery of the market, which came to a grinding halt since summer," said Bogdan Cojocaru, general director of Hörmann Romania.
"We are more optimistic in 2013. Since the start of the year, a good dynamics has been announced on industrial doors through the kick off of many industrial projects"
The headquarters and deposit of Danone Romania and the Karl Heinz Dietrich logistics center in Timisoara are some of the industrial projects supplied by Hörmann.
Hörmann registered a global turnover over EUR 1 billion. The main growth markets were Germany, the UK, Austria, France and Poland. The company opened new branches in India, Vietnam, Mexico and Brazil.
Globally, the company moved to cut its carbon footprint and rolled out a new energy management system. Hörmann uses around 40 percent of green energy in the manufacturing process and has switched to gas for the heating of its units. The company also fitted new generating assets for electricity and thermal energy.
Ovidiu Posirca