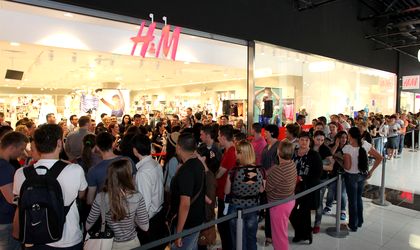 Swedish fashion retailer H&M will open a new store in Bucharest on December 1st which will be located on the grounds of the Iris Shopping Center in the Titan neighborhood, announced the company today. This is the 10th shop H&M has opened in the capital and the 29th in Romania.
Earlier this month the fashion retailer opened its first local high street location in Bucharest's old center.
H&M Romania announced this September that it had plans to open four new stores this year, three in Bucharest – the one in Lipscani area, another in Promenada Mall, another in Iris Shopping Center- and a store in Ploiesti, reaching a total number of 29 stores countrywide.
After it opened eight new stores in Romania last year, Swedish fashion retailer H&M has reported sales worth SEK 635 million (approximately EUR 74 million) for the 2012 fiscal year (December 1, 2011 – November 30, 2012) up from SEK 335 million the previous year. Expressed in RON, sales were up by 107 percent.
The first local H&M store was opened in March in 2011 in AFI Palace Cotroceni in Bucharest. Since then the retailer has expanded countrywide to cities such as Brasov, Cluj, Timisoara, Oradea, Constanta, Arad, Craiova, Braila, Iasi, Suceava and Sibiu.
Simona Bazavan