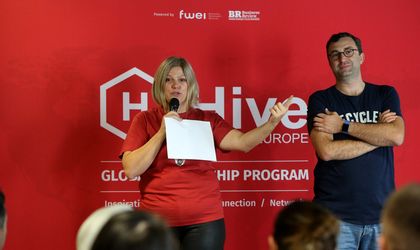 The Hive Eastern Europe Leadership Program has started today at Bucharest with more than 70 participants, from Romania, Turkey, Germany and US, who want to work towards personal growth and building a better society, together with 25 speakers and facilitators from the US, Europe, Asia and Africa. The three-day program will provide participants with an open platform for personal and professional development, including speeches, interactive workshops and introspection moments.
The conference has opened by Oana Molodoi, founder of Hive Eastern Europe Chapter and End of Waste Foundation, and by Ionut Georgescu, founder and CEO at End of Waste Foundation. Georgescu's key-note speech, "Designing a better future" amassed the modern principles of leadership and were a glance at his personal experience over the last three years since he joined Hive Program. The other sessions of the first day were on field of transformation, "Shared values of a perfect world" with Carmen Sidon and a couple of pitches on Sustainability as a centric to a better future. The next two days, filled with workshops and interactive exercises, will benefit from the virtual presence of Ryan Ellis, the founder and CEO of Hive Global and Gordon Starr, founder and CEO of Starr Consulting Group.
Hive is a global community of leaders and entrepreneurs, founded in San Francisco, US in 2013. The Hive community includes over 2,800 executives, entrepreneurs, technology specialists, and innovators from 130 countries.
"We launched Hive out of the desire to create an international community of exceptional people who can address the problems our generation is facing and find practical solutions," said Ryan Ellis. "We have developed a unique curriculum bringing together the personal experience of our members, the work of Tom Chi, the innovator behind GoogleX and the most important leadership programs developed in business schools around the world, including the Harvard Business School, the Singularity University Executive Program, Stanford d. School, Ashoka: Innovators for the Public, the Harvard Graduate School Leadership Institute, the Landmark Curriculum for Living," Allis added.
Alumni of the Hive Leadership program include executives of companies with turnovers of over 250 million US dollars, Olympic game winners, Harvard and Stanford professors, technology entrepreneurs, top engineers at Facebook, Google and Apple, researchers at the World Bank and the UN, astronauts and survivors of genocide in Rwanda, all of whom have become inspirational speakers.