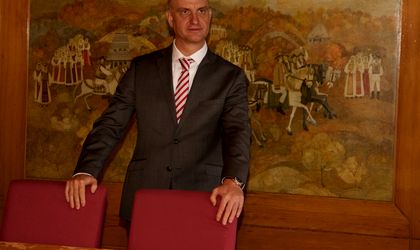 The 1938 historical monument situated in Herastrau Park, Pescarus restaurant, has been taken over by local businessman Dragos Petrescu (photo), CEO of City Grill Group, who promises to reopen the restaurant in May after a EUR 450,000 facelift. Some of the investment will be deducted from the rent, which has been set at 9 percent of the revenues.
"The location will maintain its name, which is a powerful brand for those living in Bucharest in the Communist period, and will be the second Caru' cu bere," said Petrescu at a press conference.
Pescarus has almost 400 covers indoors and 600 seats on its terrace, which will be completely refurbished so it can be used year round. The facelift will restore part of the former interior design, revitalizing the ideas of architect Horia Creanga, nephew of national writer Ion Creanga, then considered a visionary.
The menu will be traditional Romanian with contemporary flavors, and will include special City Grill favorites, such as the well-known mici.
Currently, the City Grill Group has 16 restaurants and cafes, with 4,500 covers, under the brands Trattoria Buongiorno, City Café, City Grill, Hanu Berarilor and Caru' cu Bere. Last year, its turnover was EUR 20 million, and Caru' cu Bere itself made EUR 5.5 million. The group has over 10,000 diners per day, served by 900 City Grill employees.
Address: 1 Aviatorilor Blvd.
Tatiana Lazar