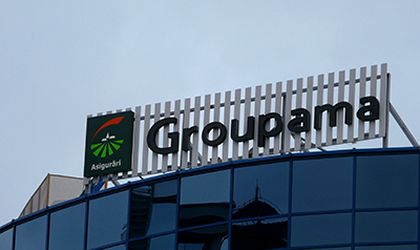 Groupama Asigurari posted gross written premiums (GWP) amounting to RON 805 million (EUR 180.2 million) in 2015, an increase of 13 percent over the previous year, according to a press release.
The 13 percent growth in turnover registered by the company is above the market median, while the IFRS profit reached RON 23 million.
The non-insurance line contributed RON 759 million, up 14 percent over the same period last year, while the technical net result after commissioning has improved by 14 percent, due to improved results in all business lines.
Of these, CASCO brought in the largest contribution, stable against the previous year, of RON 336 million.
The property segment, including agro, increased by 16 percent to RON 191 million, with agricultural insurance increasing by 41 percent and business insurance by 20 percent.
Health and accident insurance increased by 44 percent to RON 15 million as a result of the progressive increase of the customer base, up to 50,000 insured persons.
Other non-life insurance, transportation, civil liability, travel and financial risks increased by 10 percent to RON 42 million (with a significant increase of 25 percent in the travel segment).
On the life insurance line, gross premiums written increased by 6 percent to RON 46 million.
According to data reported by the Authority for Financial Supervision (ASF) for 2015, Groupama Asigurari has registered 39 complaints, the lowest number in top 5 companies of its kind in Romania.
For 2016, Groupama Asigurari aims to have a 5 percent increase in turnover and a profit amounting to RON 27 million, by "strengthening its CASCO, home insurance and property lines, while paying close attention to the personal insurance segment."
Groupama Asigurari is part of Groupama group and has in its portfolio 1.1 million individual clients and over 67,000 companies.
Natalia Martian