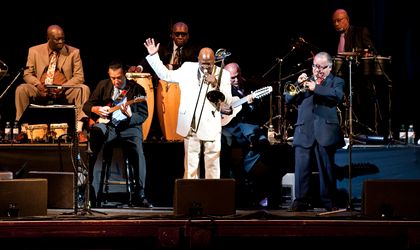 Buena Vista Social Club will sing at Sala Palatului on June 28, as part of their "Adios!" world tour. After 16 years touring and singing together, the Cuban artists that make up the Buena Vista Social Club Orquesta embark a new world tour to say goodbye to all their fans.
"We wanted Cuban music to spread across the world through us and we think we managed to achieve that through our tours. It was an incredible time in my career and my life", according to singer Omara Portuondo.
The "Adios!" tour celebrates a history of almost 1,000 shows that brought together over 40 top musicians. After 16 years, the Buena Vista Social Club combines veteran experience with youthful vigor in order to promote Cuban music.
The Club will be lead by Jesus Aguaje Ramos in their new tour and they will be accompanied by: Omara Portundo, guitarist Eliades Ochoa, trumpet player Guajiro Mirabal, piano player Rolando Luno and many others. The tour will debut in June and after travelling to four continents it will end in the autumn of 2015 with a gala concert in Havana.
Ticket for the Bucharest gig can be bought online on www.iabilet.ro, www.bilete.ro and eventim.ro. Offline, you can purchase your tickets in the Romanian Post's offices, Humanitas and Carturesti book stores, Germanos, Orange, Vodafone and Domo stores.