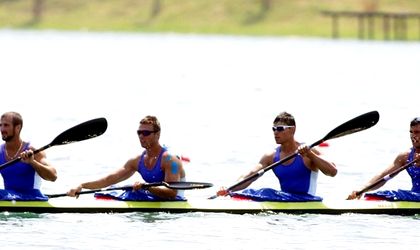 Romania received three gold medals and three silver medals in both the individual and team competitions at the European Kayak and Canoe Flatwater Championship that took place this weekend in Zagreb.
The Canoe 2 team, made up from Liviu Dumitrescu and Victor Mihalachi, won the gold medal at the 1.000 meters canoe race in Zagreb. They are also qualified for the Olympic Games in London this summer.
In the paracanoeist 200 meters finals, Romania had two gold-winners: Mihaela Lulea and Iulian Serban.
The final of Canoe 1 for 5.000 meters was won by Florin Comanici, with an average time of 22:55.50 minutes. He received the third gold medal for Romania.
The Romanian Canoe 4 team, made up of Iosif Chirila, Catalin Costache, Mihail Simion and Florin Comanici, won the silver medal coming second after Belarus team.
Romania's Kayak 4 team, which consists of Traian Neagu, Toni Ioneticu, Stefan Vasile and Petrus Gavrila ended the race on the second position, ahead of Serbia, but after Denmark, which won the race in the 1.000 meters final.
Oana Vasiliu
Photo: AFP/MediafaxFoto