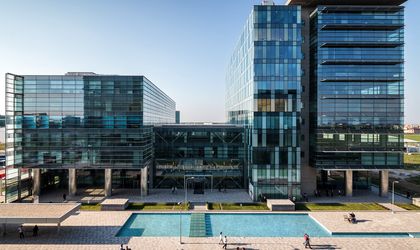 Global City Business Park, an office space park in the northern area of Bucharest, owned by the Global Finance investment fund, announced the signing of three new lease contracts and the expansion of several existing tenants.
"As of this month, Global City Business Park has let another 1,600 sqm, having three new tenants while several existing tenants expanded their offices. Bergenbier, part of the Molson Coors Central Europe group and one of the largest beer producers in Central and Eastern Europe, has occupied in its entirety the floor on which they started their activity at the beginning of the year," Sorin Macoveiu, commercial manager at Global Finance Romania, stated.
Euroins and Adama Agricultural Solutions also decided to expand their offices in Global City Business Park.
According to the company's representative, the new tenants are Altex Service Center, the service department of retailer Altex Romania, AutoItalia Group, the local importer of the automotive brand JEEP, and Ted's. Altex will occupy a 650 sqm office space, while AutoItalia Group chose to rent 450 sqm on the ground floor, where they plan on opening a JEEP showroom in October this year.
"The third new tenant is Ted's cafe. Its arrival to Global City Business Park is beneficial for all our clients, who will enjoy a large array of facilities,"Macoveiu added.
He emphasized the fact that the new cafe will complete the already developed retail area, designed to cover the needs of more than 2,500 people that are working in the business park, and have access to a self-service restaurant, a business lounge, a beauty salon, a pharmacy, two ATMs and an InMedio store.
Situated in the northern part of the city, Global City Business Park has a total built area of 56,000 sqm and offers a total of 51,000 sqm of office space for rent in two G+10 buildings. Moreover, the business centre has 28,000 sqm of built underground space, consisting of 844 parking spaces that complete the exterior parking lot. The project was started in October 2007 and concluded in February 2010.
At the moment, Global City Business Park has over 30 tenants, most of the office space being rented to companies like Michelin, Coca-Cola HBC, Total Soft, Euroins, Ford, Honda, Bergenbier, Quintiles or Monsanto.
Founded in Athens in 1991, Global Finance's operations consist of private equity fund management, real estate development and advisory services covering South-Eastern Europe. In 2005 Global Finance entered the real estate market targeting property investments in Romania, Bulgaria and Serbia. Global Finance has offices in Athens, Sofia, Bucharest and Belgrade.
The company has completed more than 80 investments in 11 countries in diverse economic and political environments and established its presence in Romania in 1996. It has since made investments in various sectors such as pharmaceuticals, technology, telecoms, food retail, recycling, insurance and real estate.
Natalia Martian