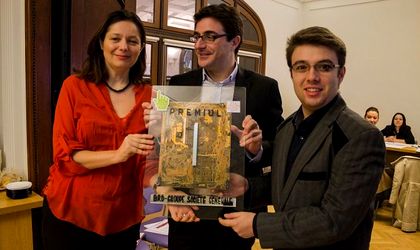 On December 11th, Ateliere Fara Frontiere has awarded the "Give IT Top 2014" competition winners during an event hosted by the Romanian American Foundation.
Created in order to promote the involvement of organizations giving the largest quantity of Waste of Electronic and Electric Equipment (WEEE), the "Give IT Top"serves the purpose of reducing waste and reusing equipment before recycling and elimination. Most of the IT equipment refurbished by Ateliere Fara Frontiere is donated to schools and associations in disadvantaged communities.
Last but not least, this equipment helps create new jobs in the work integration workshop for disadvantaged people at Ateliere Fara Frontiere.
The winning organizations were awarded special creative trophies made from scraps of electronic equipment as a symbol for their support offered throughout the initiative.
In the "Large Companies" category, BRD Groupe Société Générale ranked nr. 1 with 9.5 tons of WEEE given in 2014, followed by Auchan Romania with 8.8 tons and ING Bank Romania with 8.6 tons.
In the "SME and NGO" category, Teledirect lead the podium with 1.5 tons followed by Fun Labs and Paralela 45.
In 2014, Ateliere Fara Frontiere has collected, tested, reused or recycled a total of nearly 100 tons of WEEE. You can find the final ranking here.