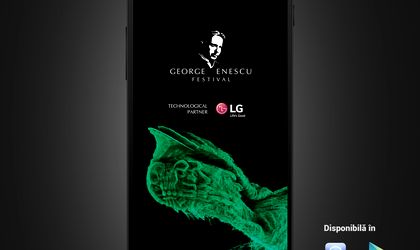 George Enescu Festival (August 30 to September 20) launched an app dedicated to its 2015 edition, giving aficionados real time access to festival information,  according to organizers.
The app is adapted for big screen phones and high resolution and is available for download free of charge from Google Play and the App Store.
"This way, users have access to real-time photos from concerts in the festival, as well as news and information about events taking place at the festival, but also news and articles about artists invited and composer George Enescu. The Creative Bucharest map is also available in the application," stated a press release.
The smartphone app was designed to help those who love the Enescu Festival and classical music to grapple with over 150 concerts of the festival and dozens of projects under the Creative Bucharest project, but also to facilitate access to current content about the festival.
The application is available in English in order to facilitate international public access seeing as, on average, 20,000 foreign tourists come to Bucharest to attend the Enescu Festival.
Approximately 2,500 foreign artists and 500 local ones are coming to the 2015 edition of the George Enescu Festival , the largest international cultural event organized by Romania.
The 2015 edition proposes works by George Enescu in contemporary interpretations, by some of the most important orchestras in the world.
In February 2015 the Third Symphony by George Enescu was presented in London by the famous London Philharmonic Orchestra, conducted by Vladimir Jurowski. The concert took one of the greatest stages of the world – Royal Festival Hall, before an audience of over 2,000 people. The interpretation arrived in London after being presented within the 2013 edition of the Enescu Festival at Sala Palatului.
Natalia Martina