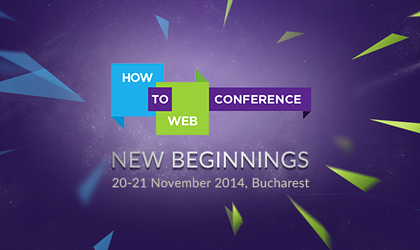 How to Web, the most important event about innovation, technology and entrepreneurship in South Eastern Europe, will take place on November 20 – 21 in Bucharest, Romania.
The conference reaches its 5th international edition this year and it showcases an enhanced format, with a main track that will explore future tech trends and entrepreneurship and secondary tracks dedicated to game development, product management and angel investment.
Very Early Bird tickets are available until Wednesday, October 22nd, on the conference website howtoweb.co.
The 5th international edition of How to Web marks a new beginning for the conference: the event brings about a more mature format and discusses in depth several specific subjects. The event's main stage will host thrilling talks about future trends that will impact businesses and industries worldwide, tech entrepreneurship, getting an investment or building tech products with disruptive potential.
Technology leaders focusing on innovation in a broad range of disciplines and worldwide known professionals will take the stage to share their expertise and best practices learned over the years. Among the guest speakers that have confirmed their attendance to How to Web Conference 2014 there are: Manuel Heilmann (Co-Founder & CEO Coinzone, startup that enables businesses and individuals to easily conduct transactions with digital currencies such as bitcoin),
Ze Pinto Ferreira (Co-Founder & CEO FNV Labs, the producers of Mellow, the first sous-vide machine for cooking controlled through smartphonen whose crowdfunding campaign was oversubscribed 300%),
Florian Meissner (CEO & Co-Founder EyeEm, Germany, the world's premier mobile community and marketplace for photography aficionados having more than 10 million users from over 100 countries),
Paul Papadimitrou (Innovation Strategist, UK, reputed analyst and coveted speaker that has delivered keynotes at events all around the world such as LeWeb – Paris, London; SXW –US; or Social and Digital Marketing Conference – New York, Singapore, London),
Michael Ni (Senior VP Marketing & Products Avangate, US, Romanian company that was acquired last year by the leading VC Francisco Partners)
Dennis Cox (Chief Product Officer IXIA, US, entrepreneur whose company was bought by IXIA in 2012 for 160 million USD incash).
Ragnar Saas (Co-Founder PipeDrive) or Mark Tolmacs (Product Manager Ustream) are among the specialists that will deliver instrumental talks on best practices and success stories, thus setting new quality benchmarks for delivering a great user experience from the first click to the last.
Jonathan Bixby (Executive Director GrowLab, having raised the biggest business angel financing round in Canadian history),
Rune Theill (Co-Founder & Program Director Rockstart Accelerator), Simon Jenner (investor & Co-Founder Oxygen Accelerator),
Adrian Gheară (angel investor that has funded 123ContactForm),
Mălin Ştefănescu (angel investor supporting Green Horse Games),
Lyuben Belov (angel investor and Managing Director LauncHub).
Early stage tech startups in Central and Eastern Europe that are building innovative products with disruptive potential are invited to apply for the third edition of Startup Spotlight, competition and orientation program for the best 32 teams in the region that will take place in between November 19th the program will compete for the 20.000 USD cash prizes offered by IXIA, main partner of Startup Spotlight, and will attend mentoring sessions and dedicated workshops.
Startup Spotlight applications are open until October 20 and they are made online on the program website startupspotlight.co.
How to Web is the most important event dedicated to innovation, technology, and entrepreneurship in South East Europe. The conference targets technology innovators, web entrepreneurs, tech product developers, outsourcing companies interested in innovation, investors, as well as all tech & web lovers. More details about this year's event and the updated speakers list are available online on the conference website howtoweb.co.