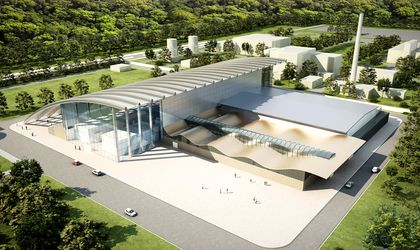 The Romanian pillar, ELI-NP (Extreme Light Infrastructure-Nuclear Physics) will consist of the most powerful laser beams and the most advanced gamma beams in the world, according to Nicolae Zamfir, Romanian plenipotentiary for the project. Zamfir, who is director general of the Horia Hulubei National Institute for Physics and Nuclear Engineering, Bucharest, in Magurele, noted in the KPMG Research & Innovation Guide, "The ultrahigh power and intensity of pulses will produce electric fields so strong that they may alter and sense the texture of the vacuum itself."
While the laser beams will have 10 PW of power each but the duration of the laser pulse is extremely brief. Scientists involved in the project explained that 10PW means 1,000 times the cumulated power of electrical power plants from all over the world.
"If such a powerful laser pulse lasted for just one second, it would require all the electrical energy produced in the world for two weeks to fuel it," they said, quoted by Mediafax newswire.
Construction of the facility that will host the lasers and gamma beams has begun in Magurele. The ceremony for the inauguration of the works took place in the presence of Johannes Hahn, European commissioner for regional policy, Romanian prime minister Victor Ponta, Remus Pricopie, minister of national education, Titus Corlatean, minister of foreign affairs, Eugen Teodorovici, minister of European funds, Sorin Oprescu, Bucharest mayor, Marian Petrache, president of the Ilfov county council, representatives of the R&D institutes and others.
Said Commissioner Hahn, "ELI is hugely significant, not just for Romania, but for all of Europe. It has the potential to attract researchers and students. This is about turning the brain-drain into brain circulation and attracting people down the path of a science career. It can also put Europe on the map of nuclear physics research using high-tech laser technology."
The compound that will host the ELI-NP project will be built on seismic shock absorbers.
"The main building will be unique, in the sense that it will be disconnected from the ground, because no vibration whatsoever is allowed. It is placed in its entirety on a set of shock absorbers, because at that kind of power, it would spell disaster if even a pair of high heels were felt," said Mihnea Costoiu, delegate minister for scientific research, quoted by Mediafax.
The facility will have two isolated wings, one for the lasers, of 4,406 sqm, and one for the gamma beams, with a surface of 6,604 sqm. There will also be a space for laboratories with a surface of 2,396 sqm.
The construction of these buildings will be carried out by a consortium led by Austrian group Strabag, which also includes Zublin and Aedificia Carpati.
The European Commission has granted the Magurele pillar nearly EUR 356 million of funds.
"A public sector investment, especially in research, has several objectives. It creates a platform for technological applications and an industry with high added-value and potential for exporting technologies, as well as creating jobs and an environment for a cluster of development in which SMEs grow in a certain field of activity. The economic development will generate income for the state budget. The project can be expected to be financially self supporting within a few years. In a nutshell, this is how success is measured for public investments," Serban Toader, senior partner at KPMG, tells BR.
The project is estimated to create 13,000 new jobs. Top researchers from all over the world can apply for the 1,000 available positions, of which 200 will be permanent jobs, said Costoiu.
"ELI should not only encourage Romanian specialists to stay, but also be an incentive for the Romanian scientists who have already left the country to return. It should also attract specialists of all nationalities from around the world," says Razvan Nan, senior manager, corporate finance, at KPMG. ELI-NP will have a value of EUR 356 million, excluding VAT.
From this sum, the European Commission has come up with structural funds of EUR 180 million, excluding VAT, via the Operational Programme, Increase of Economic Competitiveness.
"If the right support is given, based on estimates from previous projects, the ELI-NP project has the potential to generate total investments of around EUR 3-4 billion," says Toader.
Meanwhile, the Romanian authorities need to come up with the infrastructure around the project.
Magurele is just 18 kilometers away from Bucharest. A ring road is under construction and there are also plans for a new ring railway. Magurele already hosts top national research organizations such as the Institute of Atomic Physics, the National Institute of Physics and Nuclear Engineering, the National Institute for Laser, Plasma and Radiation Physics, the Faculty of Physics of the University of Bucharest and 8 out of 19 strategic research facilities. With ELI-NP, it will become a hub which should spell opportunities for transportation and cab companies, the hospitality industry, financial, security and health services, according to the KPMG R&D Guide.
The research carried out in Magurele will have applicability in medical sciences – especially imaging and cancer treatments – pharmaceuticals, nuclear materials and radioactive waste management, electronics, software development and optics.
"ELI-NP will provide a great boost to Romanian scientific research, bringing it to the forefront of global innovation. I would like to think that one day a Nobel Prize winner will emerge from ELI-NP's activities. Let's hope that he or she will be a Romanian!" says Toader.