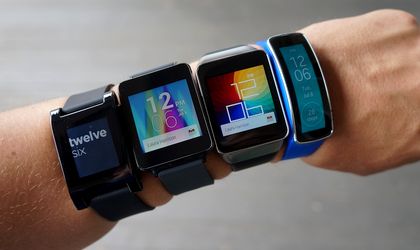 According to study by iSense Solutions, a Romanian marketing solutions company, 2 percent of internet users in Romania now have a smart watch. However, 4 in 10 responders would buy one in the next 12 months.
Although smart watches are considered expensive products, 50 percent of Romanians find it very useful. The main reason for choosing such a product is the multitude of existing applications (42 percent), but responders also see it as useful because of the possibility of communication with other people when they find it difficult to use the phone, such as cases that are behind the wheel (38 percent) or battery life (32 percent). 37 percent of the responders would buy a smart watch for its design.
According to the study, over 80 percent of Romanians are familiar or at least have heard of the concept of smart watch. Apple is in first place among the most recognized smart watch brands in Romania (mentioned by 60 percent of responders), Samsung coming along close with 58 percent.
However, in terms of purchase intent, 47 percent would acquire the Samsung brand compared to 29 percent who would choose Apple.
"Besides the emphasis on useful features, smart watch manufacturers and sellers should know their potential buyers' profile very well. In Romania, people interested to buy a smart watch within the next 12 months are professionally active men and young people in the age range of 25-34 years, with personal income over RON 3,000," said Andrei Candia, managing partner iSense Solutions.
The most useful functions in a smart watch are considered to be GPs (76 percent of respondents) and the possibility to make and receive phone calls (72 percent) or checking the pulse and physical activity of the person wearing the watch (72 percent), the ability to send e-mails (62 percent) and the ability to send text messages (58 percent).
On the other hand, the main reasons given by those who do not want to buy a smart watch is the high price (64 percent), being more conservative and prefer to wear normal watches (27 percent), while 22 percent believe that these watches do not offer featuresany more different than a smartphone. Moreover, 11 percent believe smart watch sites as a fleeting trend.
The study was conducted online by iSense Solutions on a sample of 1,070 respondents. Data are representative of people aged over 15 years, in Romania's urban environment. Results have a degree of error of +/- 3 percent at a confidence level of 95 percent.
iSense Solutions offers integrated marketing services: research, marketing consulting and communications, and digital sales. The company was founded by Traian Nastase and Andrei Canda, specialists with over 10 years' experience in market research and a solid academic expertise (doctorate in Sociology and Marketing, respectively).
Natalia Martian