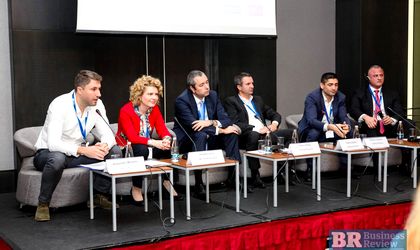 By 2020, there will be 50 billion connected devices worldwide, which is giving a big boost to the Internet of Things industry, and especially to its machine-to-machine component, argued the participants at the Business Review annual event Focus on Technology and Telecoms. The fact that consumers are shifting more towards online is changing the strategy of businesses which need to come up with new online solutions to target their public.
Otilia Haraga
"We are in the first phase of the 4.0 industry (Internet of Things.) In Romania, there are currently 730,000 SIMs on the market estimated for the end of 2015," said Tiberiu Dobre, director high corporate sales, enterprise business unit at Vodafone Romania.
People are now living very interesting times when they are generating unprecedented amounts of data. By 2020, there will be 50 billion devices connected, which means 5 connected devices per user. However, out of these 50 billion devices, most will work without the help, or even knowledge, of users, according to the pundits present at the event.
This year, 30 percent of all internet traffic will be mobile, compared to 15 percent in 2013. This involves new ways of working together and the fact that social networks are entering the company sphere, according to Florin Popa, business to business director at Orange Romania.
Everything is moving offline and businesses need to adjust this new strategy to consumers' needs, according to Emilia Branzan, industry manager at Google. According to Google data, from 2010 to 2014, there has been a 53 percent decrease in foot traffic. Yesterday's reality was that everything was anchored around the physical store and foot-traffic directed business decisions. Today, businesses need to adjust to a new reality, which is the fact that the digital drives in-store traffic.
According to Google data, Romanians spend a great deal of time online. Thus, 73 percent of Romanian consumers are online at least once a day, 20 percent of them go online weekly and 7 percent go online once a month or less.
Consumers who are online often are especially those aged 34 years old and younger.  Actually, the time spent online increases as the age decreases. Thus, 86 percent of young people under 25 go online every day. For the category 25-34 years old, 82 percent go online every day, while in the 35-44 age category, only 69 percent of them go online. Only 64 percent of the people between 45-54 years old go online every day, while in the case of those over 55 years old, this ratio drops to 58 percent, according to Branzan.
Furthermore, many Romanian consumers are online even while watching TV. Actually, as many as 50 percent of them have their smartphones with them while they are watching TV. In fact, according to Google's Consumer Survey U.S. 2015, 66 percent of smartphone users turn to their phones to look for something they saw on TV.
While 76 percent of customers do online research, 29 percent purchase online and 47 percent purchase offline. Search engines are essential in the purchase decision because they are used by 65 percent of users before making a purchase. Also, when it comes to a local business, 62 percent search a day or less before visiting and 75 percent only consider 1-3 businesses before deciding where to buy, according to Branzan.
The video channel is becoming more and more important in the preference of consumers, as 7 out of 10 consumers are watching videos on their smartphones. For 52 percent of them, watching videos is an opportunity to relax. Most people watch videos in the afternoon and the evening, and 37 percent of them watch videos that are shorter than 5 minutes.
Having a functional website adapted for mobile viewing is something that businesses will not be able to do without. When people are accessing websites via their smartphone, 53 percent of them are experiencing issues, and in this case, 32 percent go to another website that works better on their mobile, according to Branzan.
At the same time, with moving their operations offline, businesses also need to make sure that they are protected against cyber-attacks.  Dorin Pena, general manager, Cisco Romania, said there is a multi-billion USD global industry that is targeting the businesses' prized assets. "Romania is not a point of attraction from the point of view of the seized assets or data, it is a point of attraction because of the potential it has to launch these attacks," said Pena.
While businesses are shifting towards the digital, the Romanian public administration will also need to make a few steps in this direction. Speakers at the BR Focus on Technology and Telecoms debated the fact that Romania still does not have a digital economic map. "Romania is unfortunately rather deficient when it comes to the access to public data. In other countries, such as the United Kingdom or France, there are independent organizations that are offering free access to sales in a certain industry. I believe the answer lies with the Romanian authorities. I think there is a lack of preoccupation in this respect in the public sector," according to Popa.
Alexandru Molodoi, CTO Idea City, moderator of the first panel of discussions, said a digital economic map of Romania would be very beneficial because it "would bring some transparency in a field where there is little."
At the level of Bucharest, there are several smart city pilot projects, according to Razvan Ionescu, marketing director – Business Segment, Telekom Romania. "We are one of the few operators in Romania with a high interest in smart cities solutions such as smart Wi-Fi or smart lighting. We already have several pilot projects with the Romanian authorities. This partnership is for Bucharest only, at the level of one Bucharest district. We are currently discussing implementation opportunities with technological partners," said Ionescu.
In which industries are consumers researching online
Flight tickets 96 percent
Hotel stays 96 percent
Cinema tickets 93 percent
Ground travels 93 percent
Televisions 92 percent
Music 91 percent
Laptops 89 percent
Mobile phones 88 percent
Home appliances 87 percent
Real estate 84 percent
Personal loans 82 percent
Car insurances 81 percent
Do-it-yourself 77 percent
Home furnishings 75 percent
Makeup 68 percent
Hair care 66 percent
Restaurants 58 percent
Vitamins & OTC remedies 52 percent
Groceries 45 percent
*Source: The Connected Consumer Survey 2015